Activities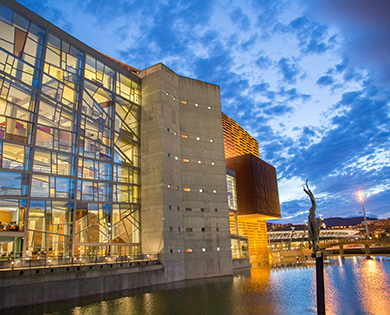 Euskalduna Conference Centre, Bilbao,
Spain. Site of the 2007-CRE XI Conference. 
• Hugo de Lasa has been actively involved in organizing and promoting important national and international events:
        - Chair: The 1998 48
th
Canadian Society for Chemical Engineering Conference,
        - Chair-Three United Engineering Foundation conferences (held in 1997, 2001 and 2003),
        - Co-Chair: The 2002 Circulating Fluidized Bed Conference,
        - Chair: The 2005 - CRE X Conference of the ECI entitled
Innovations in Chemical Reactor Engineering
,
          held in Zacatecas, Zac, Mexico and which Dr. de Lasa chaired,
        - Chair: The 2007- CRE XI Conference entitled Green Chemical Reactor Engineering, held in Bilbao, Spain.
• In 1988, Hugo de Lasa founded the Chemical Reactor Engineering Centre at the University of Western Ontario (CREC-UWO). CREC is a first-class research group in chemical reaction engineering, catalysis and fluidization. CREC-UWO currently counts with first class computer facilities, analytical equipment and bench scale chemical reactors (prototypes).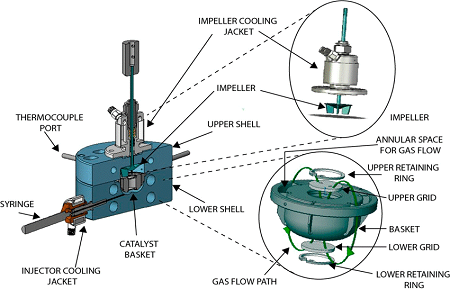 • In 2006, Hugo de Lasa led the application of a CFI grant for 18.2 M$ which was awarded. This funding allowed the establishment of new facilities for CREC-UWO and Faculty of Engineering colleagues at the Claudette MacKay-Lassonde Pavilion.




•

In 2003, Hugo de Lasa founded Recat Technologies Inc. (Reactor Engineering and Catalytic Technologies). This company is an affiliated spin-off from the University of Western Ontario (http://www.recattechnologies.com). Recat specializes in the development and commercialization of innovative reactor engineering and catalytic technologies.


• In 2002, Hugo de Lasa co-founded the International Journal of Chemical Reactor Engineering. He is currently chief editor of this journal. The International Journal of Chemical Reactor Engineering(IJCRE) publishes articles dealing with areas of chemical reaction engineering, single-phase and multi-phase reactor design, catalytic reactors, the operation and control of chemical reactors, new chemical reactor concepts for green chemical processes, fluid mechanics and fluid dynamics as well as computational fluid dynamics. The current IJCRE impact factor stands at 1.152.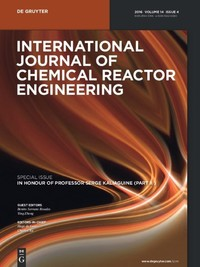 • Hugo de Lasa has acted as consultant for numerous universities, industrial and governmental organizations:                       
 
        Universities
• Gazi University, Turkey
• Kagoshima University, Japan
• King Abdullah University of Science and Technology, Saudi Arabia
• King Fahd University of Petroleum and Minerals, Saudi Arabia
• Instituto de Catálisis y Petroquímica (INCAPE), Argentina
• Middle East Technical University, Turkey.
• Surface Science Western, University of Western Ontario
• Universidad Autónoma Metropolitana, Mexico
• University of British Columbia
• Université Laval, Quebec
• Universidad de El Salvador, El Salvador
• University of Kuwait, Kuwait
• Universidad Mondlane, Mozambique
• Universidad Nacional del Sur, Argentina
• Universidad de la Patagonia, Argentina
• Universidad del País Vasco, Spain
• University of Saskatchewan
• Universidad Autónoma de San Luis Potosí, Mexico
• University of Trondheim, Norway
• Universidad Autónoma de Zacatecas, Mexico
• Washington University, St. Louis, USA
       
        Governmental Organizations
• Austrian Science Fund
• Canadian Foundation for Innovation
• CANMET, Canada
• CONACYT- Mexico
• CONICET- Argentina
• Engineering Foundation, New York
• Government of Quebec
• Interamerican Organization of Higher Education
• IDRC, Canada
• ISTP-Global Connections, Canada
• NSERC, Canada
• NATO Scientific Affairs Division
• Netherlands Research Council
• Organization of American States
• RICA Network
• Ministry of the Environment, Ontario
• Petro-Canada
• Sacda/Honeywell, Canada

        Industrial Corporations
• Air Products and Chemicals, USA
• Akzo Nobel, The Netherlands
• Alcan, Canada
• Aramco,Saudi Arabia
• Bayer, Canada
• BTF Industries, Toronto
• Chevron Research and Engineering, USA
• Conoco Phillips, USA
• Dow Chemicals, USA
• Dupont, Canada
• Dupont, USA
• ECOPETROL, Colombia
• ELF-France
• ESTAC, Canada
• Exxon, USA
• Imperial Oil, Canada
• Indian Oil
• Intevep, Venezuela
• Instituto Colombiano del Petróleo
• Instituto Mexicano del Petróleo
• Mobil, USA
• Neste, Finland
• Plasco Energy, Canada
• Orinoco Iron, Venezuela
• Petrobras, Brazil
• Petronor, Spain
• REC-SGS, USA
• Reactech, Canada
• Sabic, Saudi Arabia  
• Shell, Canada
• SINTEF, Norway
• Sumitomo, Japan
• Syncrude, Canada
• Statotil, Norway
• Stone and Webster, USA
• YPF, Argentina