Andrew Hrymak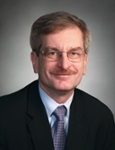 Professor, Chemical and Biochemical Engineering

PhD, Chemical Engineering, Carnegie Mellon University, (1985)
B.Eng. Chemical Engineering, McMaster University, (1980)



Prior to serving as Dean with the Faculty of Engineering here at Western University from July 1, 2009 - July 31, 2018, Professor Andrew Hrymak served in the Department of Chemical Engineering at McMaster University from 1985- 2009 where he was Professor and Department Chair (2000-2009), Director of the McMaster Manufacturing Research Institute (2001-05), and Director of the Walter G. Booth School of Engineering Practice (2004-09).
Hrymak's research interests include modeling, design and optimization of materials processing systems, in particular: composites processing, injection molding, compression molding, mixing liquid coating flows, and complex rheology.
He served as Editor of Computers and Chemical Engineering (2002-2010) and Editor-in-Chief of International Polymer Processing (2004-2016).  He served as the President of the International Society of Coating Science and Technology (ISCST) from 2012-14.  He is currently the Deputy Director of the Fraunhofer Project Centre for Composites Research at Western. He served on the Fellowship Selection Committees of the Chemical Institute of Canada and the Canadian Academy of Engineering. Hrymak is past Chair of the Board of Directors of the Chemical Institute of Canada. 
Awards and Distinctions
Fellow of the Canadian Academy of Engineering (2010)
Fellow of the Chemical Institute of Canada (2005)
Excellence in Process Development Research Award by the Process Development Division of the American Institute of Chemical Engineers (2005)