Lauren Briens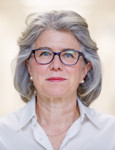 Associate Professor and Assistant Dean, First Year Studies

PhD (2000) Chemical Engineering, Western University
BESc (1994) Biochemical Engineering, Western University
BSc (1992) Honours Biochemistry, Western University


Dr. Lauren Briens is the Assistant Dean, First Year Studies, in the Faculty of Engineering and an Associate Professor in the Department of Chemical and Biochemical Engineering and in Biomedical Engineering.
Dr. Briens' research interests focus on particulate technologies with applications in the pharmaceutical and fertilizer industries. She has conducted research in collaboration with GlaxoSmithKline Pharmaceuticals Ltd, Eli Lilly and Company and Accucaps Industries Ltd. Dr. Briens is very passionate about the use of passive acoustic emissions as a monitoring method for particulate operations.
She is also Co-Chair of the WWiSER Group and a Warden of Camp 11.