Amarjeet Bassi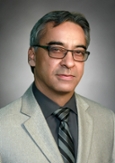 Professor

Ph.D, P.Eng




Dr. Amarjeet Bassi is a Professor of Chemical and Biochemical Engineering in the Faculty of Engineering at Western University. His research interests include micro-algal applications for clean water and value recovery, integrated technologies for water refining and nutrient and energy recovery using biological systems, bio-separations and biosensors.
His research group at Western invented the world's first circulating fluidized bed ion exchange chromatography system in 2002 (US Patents 6716334 B1 and 6887386 B2). This uninterrupted ion exchange (UIX) is undergoing commercialization and is currently under licence to Renix Inc. (www.renix.ca).
Dr. Bassi has graduated over 45 HQP (PhDs, M.E.Sc and PDFs/Research Associates). and supervised over 50 undergraduate research students. The HQP are well placed in industry or academia. He has over 150 scientific articles including peer-reviewed journal papers, patents, book chapters and refereed conference papers and 100 plus invited or other conference presentations. Dr. Bassi has co-edited one book on Smart Biosensor Technologies and is currently a second edition is being completed.
Currently Dr. Bassi is supervising five Ph.D students, three PDFs, two M.Eng students and two undergraduate students. Since starting at Western, Dr. Bassi has held many grants including from Canada Foundation for Innovation, NSERC Strategic Project grants, OMAFRA New Directions etc. He has served as Associate Editor for the Canadian Journal of Chemical Engineering, and Applied Biochemistry and Biotechnology and also as the President of the Canadian Society for Chemical Engineering.
Dr. Bassi has received the Distinguished Speaker Award from IChE in 2007 and the Engineering Science Prize for Outstanding Teaching at Western in 2000.
AWARDS AND DISTINCTIONS
Indian Chemical Congress, Distinguished Speaker Award for Contributions to the Chemical Engineering Profession, Dec. 28, 07, Kolkata, India 2007
SPIE Optics East Best Paper Award "Reconfigurable microfluidic chip based on a light sensitive hydrogel" presented at the Conference on Optomechatronics, Actuators and Manipulators, 2006
Engineering Science Prize for Outstanding Teaching, Western University, 2000
Professional Activities
Panel Member, Natural Sciences and Engineering (NSERC) Strategic Grants (Environment) 2014-2017
President, Canadian Society for Chemical Engineering 2014-2015
Vice President, Canadian Society for Chemical Engineering 2013-2014
Member, Editorial Board, Canadian Journal of Chemical Engineering  2012-present
Associate Editor, Canadian Journal of Chemical Engineering; 2008-2012
Associate Editor, Applied Biochemistry and Biotechnology 2008-2012
Technical Program Chair, 61st CSCHE conference. London, Ontario, Oct.;  2011 2010-2011
Guest Editor, Energy and Fuels (special issue), 2010
Program visitor, Canadian Engineering Accreditation Board  CEAB) external Program Visitor to several universities