Arghya Paul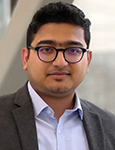 Canada Research Chair, Associate Professor

B.Tech., WBUT, India
M.Sc., McGill University, Canada
Ph.D., McGill University, Canada

My Research Group
Dr. Arghya Paul joined the Department of Chemical & Biochemical Engineering as an Associate Professor and Canada Research Chair Tier 2 in Advanced Cell-Instructive Materials and Biotherapeutics. He has joint appointment with the Department of Chemistry.
Paul Biointel Research Laboratory at Western will focus on developing new class of mechanically robust nanocomposite hydrogels with bioactive properties for tissue regeneration, regenerative medicine and wound healing applications. Specifically, his laboratory will aim to (1) develop material-based therapeutics and innovate (2) understand stem cell-material (polymers, minerals, biologics) interactions and mechanistic pathways at cellular and molecular level, and (3) discover therapeutic strategies, which can be translated to point-of-care patient applications.
Before joining Western, Arghya was an Assistant Professor in Chemical Engineering at the University of Kansas, USA. He completed his postdoctoral research training (2014) on Programmable Nanomaterials at Harvard-MIT Division of Health Sciences and Technology & Wyss Institute for Biologically Inspired Engineering (Boston, USA). He received his Bachelors (2005) in Biotechnology engineering from WBUT (Kolkata, India), Masters (2018) in Biotechnology and PhD (2012) in Biomedical Engineering, both from McGill University (Montreal, Canada).
He has published more than 80 peer-reviewed articles in high-impact journals with funding support from National Institutes of Health (NIH), State of Kansas, Canadian Institutes of Health Research (CIHR), Natural Sciences and Engineering Research Council of Canada (NSERC) and Fonds de la recherche en santé du Québec (FRSQ) at different stages of his research career. He won the prestigious 2018 Young Innovator Award for Cellular and Molecular Engineering from Biomedical Engineering Society (BMES), USA.