Shahzad Barghi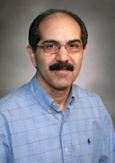 Associate Professor, Graduate Chair and Director of Master of Engineering program

PhD, University of Western Ontario
MSc, Tehran University, Tehran, Iran.



Dr. Shahzad Barghi is an Associate Professor in the Department of Chemical and Biochemical Engineering at Western University. He has been the director of the Master of Engineering program (course based) since 2005 and is currently the Associate Chair Graduate in the Chemical and Biochemical Engineering department as of January 2017. Prior to joining Western University, Dr. Barghi acted as General Director and consultant engineer in chemical process development and design.
Dr. Barghi has been involved in research and teaching in Chemical and Biochemical Engineering for over 20 years. He has working experience in petroleum, petrochemical and wastewater industries. His main areas of research include multiphase reactor, fluidization, reactive drying, air pollution (odor abatement) and successfully completed research projects companies in Ontario Canada such as TODA Advanced Materials (Sarnia), Cargill Canada (London), Cosmetica Inc. (Toronto), Lanxess (Sarnia) and Firestone (Woodstock).
Dr. Barghi has extensive teaching experience in Canada and overseas, mostly related to chemical process development and design.