Ying Zheng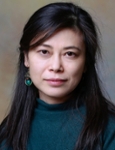 Professor

Ph.D., Chemical Engineering, University of Western Ontario (1999)




Before joining Western, Dr. Zheng was tenured Chair Professor of Chemical Reaction/Catalysis Engineering at the University of Edinburgh, UK. Dr. Zheng has a Steller academic career. 
She joined as Assistant Professor in the Department of Chemical Engineering at the University of New Brunswick (UNB) in 1999 where she was promoted to Associate Professor with Tenure in 2004 and to full professor in 2008. She was awarded the Canada Research Chair (Tier II) in Chemical Process & Catalysis in 2012, which she held for 5 years.
In 2015, she joined University of Edinburgh as Chair Professor of Chemical Engineering/Reaction Engineering. She is quite well-known researcher in the field of Catalysis and Reaction Engineering in North America. In addition to being CRC Tier 2 at UNB, she is an elected fellow of Canadian Academic of Engineering (CAE in 2016), the Chemical Institute of Canada (FCIC in 2014), Institute of Chemical Engineer (IChemE, UK in 2017) and member of the College of New Scholars of the Royal Society of Canada in 2014. In addition, she has received  awards such as CSChE Syncrude Canada Innovation award, Imperial Oil Research Award, and Humboldt Fellowships. She acts as Canadian representative in the International Association of Catalysis Societies, acted as Vice Chair (2016-18) and as Secretary/Treasurer of Catalysis Division of the Chemical Institute of Canada (2014-16).