Jin Zhang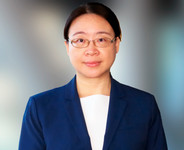 Associate Professor

Ph.D., Materials Science & Engineering, NUS, Singapore (2003)
NSERC VF, National Research Council Canada (2003-2005)
NSERC PDF, Molecular & Cellular Medicine, Univ. of Ottawa, Canada (2006-2007)


Dr. Zhang's expertise and research interests include the design, processing, surface modification, and characterization of nanocomposites for the applications in the fields of bioengineering and sustainable energy.
The goal of the Multifunctional Nanocomposites Lab (MNL) led by Dr. Zhang at Western is to develop multifunctional nanomaterials used for advanced biomedical devices. To achieve the goal, the Zhang group is dedicated to the study on the surface and interface of hybrid nanomaterials, and the interaction between nanomaterials and biological systems.
Currently, the research activities of the Zhang group focus on developing advanced nanomaterials with enhanced chemical, magnetic, and optical properties. Three research directions in the Zhang group include (1) multifunctional nanocomposites-processing & properties, (2) targeted drug delivery, and (3) protein and chemical sensor.
HONORS AND AWARDS
Nov. 2017                                Outstanding Mid-Career Achievement in Nanoscience and
                                              Nanotechnology in Ontario, NanoOntario
April 2014                                Early Researcher Award, Ontario
March 2012                              Honored on List of Women Innovators Making a Difference in Global
                                              Health, International Women's Day.
July 2011                                 Grand Challenges Canada-Canadian Rising Stars in Global Health
August 2010                            Keynote speech, the International Conference on Nanotechnology
May 2010                                 ARVO International Travel Grant
Member of Editorial Boards
Associate Editor, IEEE transaction on nanobioscience
Associate Editor, International Journal of Nano and Biomaterials