Naomi Klinghoffer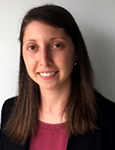 Assistant Professor

BEng, Chemical Engineering, McGill University (2007)
MSc, Earth and Environmental Engineering, Columbia University (2010)
PhD, Earth and Environmental Engineering, Columbia University (2013)


Dr. Klinghoffer is an Assistant Professor in the Department of Chemical and Biochemical Engineering, with an appointment at Western's Institute for Chemicals and Fuels from Alternative Resources (ICFAR).
Dr. Klinghoffer received her Bachelor of Engineering in Chemical Engineering from McGill University in 2007. She received her Masters of Science (2010) and Doctoral (2013) degrees from Columbia University in the Department of Earth and Environmental Engineering. Her post-doctoral work was carried out at The City College of New York where she also had an appointment as an Adjunct Assistant Professor. 
Prior to joining Western University, Dr. Klinghoffer worked for five years at Gas Technology Institute (GTI) Energy, a research and development organization, where her work focused on developing transformative energy technologies and making them market-ready. At GTI Energy, she was the PI for a $2.4 million ARPA-E funded research program focused on developing a catalytic membrane reactor for the production of renewable fuels from CO2 and H2.