Research Interests
My research group is loosely structured in 5 research clusters:
Biomass Pretreatment
Thermal, chemical (ionic liquids), mechanical and biological pre-treatment methods for lignocellulosic biomass are investigated. Effects of potential fermentation inhibitors are quantified in miniaturized high-throughput experiments.


Ethanol and Butanol Fermentation
Research focuses on in-situ product removal and process compression, as well as on reactor design and mathematical modeling. Scale related work investigate key process parameters from micro-scale, via bench-scale to pilot-scale.


Micro-Algae Cultivation
Genetic tools are being developed to enhance the production of high value chemicals in micro-algae. Additional work investigates ionic liquid-based lipid extraction and the continuous CO2 to lipid conversion for biodiesel production.


Recombinant Protein Production
Therapeutic proteins are being expressed in insect cells through the Baculovirus system. Protein purification and downstream processing is a secondary research focus.


Bioassay Development for Emerging Contaminants
Various bioassays for the quantification of genotoxicity and estrogenicity of micro-pollutants and their degradation products are being investigated in this cluster.
Group Members
Dr. Erin Johnson, Research Engineer (NSERC/Newalta),
research topic: "Butanol production from clyerol"
Email: epeter22@uwo.ca


Dr. Priyanka Saxena, Research Engineer (OCE/Germiphene),
research topic: "Efficancy assays for sterility applications"
Email: psaxena@uwo.ca


Dr. Yi-Kai (Ethan) Su, PDF,
research topic: "Insitu product removal in butanol fermentations"
Email:yikai.su89@gmail.com


Dr. Luis Luque, PDF
research topic: "Organic acid fermentation"
Email: lluque@uwo.ca


Tahereh Sarchami, PhD candidate,
thesis topic: "Bioreactor Design for Extractive Ethanol and Butanol Fermentation"
Email: tsarcham@uwo.ca


Kai Gao, PhD candidate,
thesis topic: "Butanol Production via Syngas Fermentation"
Email: kgao7@uwo.ca


Valerie Orr, PhD candidate (NSERC CGS scholar),
thesis topic: "Sustainable Polygeneration of High Value Chemicals from Microalgae: The Biorefinery Concept"
Email: vorr2@uwo.ca


Shreyas Yedahalli, PhD candidate,
thesis topic: "Genetical Engineering of Microalgae for Lipid Secretion"
Email: syedahal@uwo.ca


Junwoo Kim, PhD candidate,
thesis topic: "Effect of micropollutants on microalgae communities in mesocosms"
Email: jkim58@uwo.ca


Bilal Al-Bataina, PhD Student (NSERC IPS scholar),
research topic: "Diagnostic systems and biofilm control in dental offices"
Email: balbatai@uwo.ca


Garret Munch, PhD Student,
research topic: "Continous buntanol fermentation"
Email: garretmunch@gmail.com


Eric Doerr, MESc candidate,
thesis topic: "Bio-Hydrogen and butanol fermentation via mixed-culture fermentation"
Email: edoerr@uwo.ca


Sascha Kießlich, MESc candidate,
thesis topic: "Pervaporative butanol removal from continuous fermentation"
Email: sascha.kiesslich@gmail.com
Alumni:
Mark Weatherall, Medical School
Dr. Jeff Wood PDF, Engineering, Twente University, Netherlands
Sura Ali Senior Microbiologist, Germiphene, Ontario
Chen Feng Graduate student
Simone Boiano Graduate student
Anna Garruto Graduate student
Malihe Alaaf, PhD Student, Biology, Western University
Dr. Priyanka Saxena, PDF, Guelph
Adrian McNeely, Life Agent at American Income Life
Thomas Krieg, PhD Student, Germany
Dr. Xiaofei Tian, Post-Doc
Alexander Nikolay, MESc candidate at Max Planck Institute for Dynamics of Complex Technical System
Raphael Gräter, MESc candidate at University of Applied Science Biberach
Malihe Mehdizadeh Allaf, Research Assistant at UWO
Vivek Nagendra, Research Associate at Apotex Pharmachem India Pvt. Ltd
Karen Schwab, PhD Student at University of Applied Science Biberach
Kerstin Schwanitz, unknown
Julian Smith, Intern at Lanxess
Ershat Nayup, Graduate student at Schulich School of Medicine & Dentistry
Chad Grey, Student at CBE
Historical Photos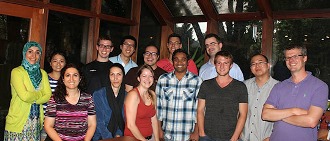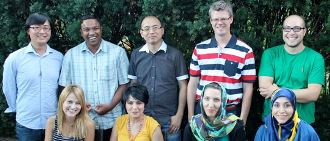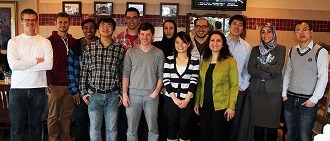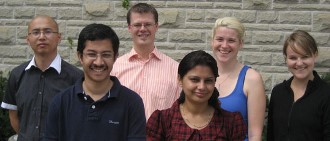 Opportunities in My Group
The research is highly interdisciplinary and there are occasional openings for new graduate students.