Research
Research Interests
Waste-to-Resources: Conversion of Biomass, Residues and Wastes into Value-Added Products
Pyrolysis: Production of Bio-Oils, Bio-Char and Gas from Biomass
Bio-Oil and Bio-Char Upgrading and Applications
Bio-Oils as Pesticides, Antioxidants and Adhesives
Bio-Char as Soil Amendment, Carbon Sequestration, Adsorbent, Filler for Plastics and Cement Composites and Advanced Material for Electronic Applications
Separation and Purification of Valuable Chemicals from Bio-Oils
Gas-Solid Fluidized Bed Technologies
Bubbling, Turbulent, Circulating and Mechanically Fluidized Bed Reactors
Thermal Cracking of Heavy Oils (Fluid Coking)
Nozzles and Sprays
Feed Jets into Fluidized Beds
The research team includes:
Current Graduate Students
Yohann Cochet, PhD
Yuan Li, PhD
Waleed Jadaa, PhD
Chiara Barbiero, PhD
Aaron Joness, MESc
Connie Wen, MESc
Timothy Cai, MESc
Arshdeep Singh, MEng
Current Visiting Graduate Students
Roberta Lotito, PhD
Current Postdoctoral Fellows
Mohammad HossainFrancisco Sanchez Careaga
Sonil Nanda

Current Technologists
Tom Johnston
Venkateswara Reddy Kandlakuti


Past Postdoctoral Fellows (past 6 years)
Stefano Tacchino
Dongbing Li
Charles Greenhalf
Roel Westerhof
Anil K. Jhawar
Masoumeh Farkhondehkavaki
Carole Baddour
Emhemmed Yousef

Graduates (past 6 years)
Anastasia Colomba, PhD
Francisco Sanchez Careaga, PhD
Luis Luque, PhD
Majid Hamidi, PhD
Mohammed Hossain, PhD
Valentina Lago, PhD
Martin Huard, PhD
Maryam Mohagheghi, PhD
Masoumeh Farkhondehkavaki, PhD
Doug Cuthbertson, MESc
Devon Barry, MESc
Marina Morando, MESc
Marco Trasendi, MESc
Owais M. Iqbal Bhatti, MESc
Majid Janhanmiri, MESc
Lingchao (Ben) Li, MESc
Saber Ayatollahi, MESc
Helal Elkolaly, MESc
Liliana Andrea Pardo Reyes, MESc
Nicholas Prociw, MESc
Jamie Gregory, MESc
Clayton Stanlick, MESc
Carolina Morales, MESc
Manjula Siriwardhana, MESc
Luis Luque, MESc
Mary Awosolu, MESc
Mitesh Chaudhari, MESc
Akhil Tumbalam Gooty, MESc
Mithun Saha, MESc
Ryan Lance, MESc
Diana C. Cruz, MESc
M. (Ali) Zirachianzadeh, MESc
Emanuele Mohammad Ebrahimi, MEng
Moataz Seidam, MEng


Current National and International Collaborations
Cedric Briens, Western University
Charles Xu, Western University
Lars Rehmann, Western University
Mamdouh Abou-Zaid, Western University
Hugh Henry, Western University
Amar Mohanty, University of Guelph
Umberto Berardi, Ryerson University
Murray Gray, University of Alberta
Ajay Dalai, University of Saskatchewan
John Grace, University of British Columbia
Janusz Kozinski, York University
Cesar Moreira, Escuela Politecnica del Litoral (ESPOL), Ecuador
Sasha Kersten, Twente University, The Netherlands
Raffaella Ocone, Heriot-Watt University, UK
Silvia Fiore, Politecnico di Torino, Italy
Alberto Tagliaferro, Politecnico di Torino, Italy
Piero Frediani, Universita' di Firenze, Italy
Antonio Marzocchella, Universita' degli Studi Federico II, Italy
ICFAR
The fast gas-solid reactor theories and technologies are being applied to a number of processes involving both catalytic and non-catalytic solid particles. Very significant contributions in this field include the development of hydrodynamic and chemical simulators of chemical processes of industrial interest, such as the coupling of predictive hydrodynamic models for fast gas-solid reactors to the kinetics of partial oxidation reactions, of Fluid Catalytic Cracking (FCC), and of thermal cracking processes (coking reactions, pyrolysis and ultrapyrolysis of various carbonaceus feedstocks: biomass, heavy oils and bitumens and plastic wastes). A major present undertaking, in collaboration with Dr. Cedric Briens and several industrial organizations, deals with studies relevant to the hydrodynamic characterization of coker reactors, kinetic studies of coking technologies for heavy oil upgrading, thermal cracking of biomass and other solid wastes for the production of bio-oil and bio-oil upgrading.
Together with Dr. Briens and other colleagues from across the University, we have created a Research Institute to consolidate and expand all these research programs and enhance our collaboration with industry and our technology transfer and commercialization activities: the Institute for Chemicals and Fuels from Alternative Resources (ICFAR).

The Institute has its own off-campus facilities and infrastructure for conducting a very vigorous research program involving considerable pilot plant experimentation.
In close cooperation with Dr. Cedric Briens, my research activities in the area of gas-solid fluid bed technologies have significantly expanded to include the investigation on the injection of a variety of gaseous, liquid and solid feeds into fluidized beds. The fundamental characterization of the behavior of gas and two-phase (gas-liquid) sprays or jets is being studied both experimentally and theoretically. Typical applications of interest include the injection of raw materials into fluidized bed thermal or catalytic cracking processes for upgrading.
In the past, I have worked for many years on the development of predictive hydrodynamic models for gas-solid fast fluidized beds, including Circulating Fluidized Bed risers (upflow) and downers (downflow), turbulent fluidized beds, spouted beds and spout-fluid beds. My research group has been involved in significant experimental work dealing with the hydrodynamic features of fast fluidized bed reactors, and has developed and patented a novel reactor configuration, called Internally Circulating Fluidized Bed. Other contributions include the technical development of new solids feeders, capable of accurately adjusting and controlling the feeding rates of small solid particles.
In addition, my research interests and activities include studies of indoor and outdoor air quality in urban areas, the development of economically acceptable technologies for the recovery and disposal of greenhouse gases, circulating fluidized bed coal combustion processes with sulfur capture, thermal cracking of plastic wastes (tertiary recycling of plastics), biosorption of heavy metals, automotive air bag technologies and failures, and remediation of contaminated sites.
The main web site of our Institute can be found by clicking: http://www.eng.uwo.ca/ICFAR.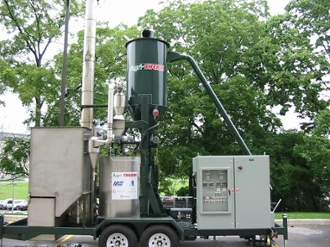 Among the various technology transfer and commercialization activities of our research group, we are very proud of our contribution to the creation of Agri-Therm, a Canadian company dedicated to developing, manufacturing and marketing portable and stationary equipment for producing bio-oils and products from biomass, specifically agricultural residues, wastes and transition crops: http://www.agri-therm.com/