Research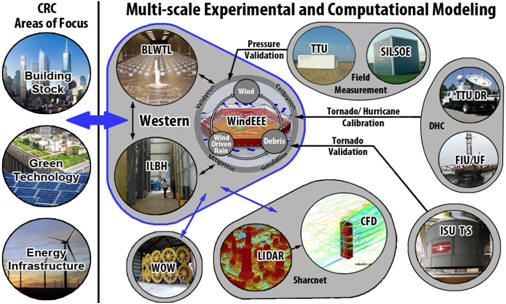 Research Interests
Multi-scale, multi-physics experimental and computational modeling of wind effects on the built-environment
Specific Interests
Wind load,
WindEEE Dome,
boundary layer wind tunnel,
computational fluid dynamics,
hurricane, tornado, downburst,
building, solar panel, wind turbine, building science,
wind-driven ventilation,
green (vegetated) roofs,
wind-driven rain,
snow loading,
structural dynamics, aerodynamics, aeroelasticity.
My Research Group
My team's main research objective focuses on enhancing performance of new and existing civil infrastructure (such as buildings, green and energy infrastructure) for environmental loads such as hurricane, tornado and downbursts under the constraints of sustainability. Working towards better understanding of complex wind/built-environment interactions to develop practical wind damage mitigation solutions through a combination of experimental WindEEE (large-scale), The Insurance Research Lab for Better Homes (IRLBH -- full-scale), and Boundary Layer Wind Tunnel Laboratory (BLWTL--model-scale), as well as computational research (Computational Fluid Dynamics --CFD at Sharcnet). Other areas of interest include application of wind engineering and building science principles towards achieving built-environment sustainability goals.
Current Research Team Members
Bodhisittta Hajra (Postdoctoral fellow - 2014, Focus: Large scale wind testing methods, Ph.D. Concordia University)
Ahmed Elatar (Postdoctoral fellow - 2014, Focus: Aerodynamic optimization, Ph.D. UWO)
Zoheb Nasir (Ph.D. student, Focus: Evaluation of tornadic load on transmission line structures, M.Sc. UWO)
Tibebu Hunegn (Ph.D. student, Focus: Aerodynamic and dynamic optimization for horizontal structures, M.Sc. IIT Roorkee, India)
Anwar D. Awol -- co-suppervisor- Dr Tariku (Ph.D. student, Focus: Boundary conditions for sustainable building design, M.Sc. IIT Bombay, India)
Ahmed Elshaer -- co-suppervisor- Dr El Damatty (Ph.D. student, Focus: Aerodynamic and dynamic optimization for vertical structures, M.Sc. Cairo University, Egypt)
Meseret T. Kahsay -- co-suppervisor- Dr Tariku (Ph.D. student, Focus: Sustainable building envelope, M.Sc. IIT Bombay, India)
Daniel B. Araya -- Major suppervisor- Dr Capretz (Focus: Building Information Technology, Graduate Diploma Computer Science, University of Witwatersand, South Afirca)
Ahmed Abd El Kadir --Major suppervisor - Dr El Naggar (Ph.D. candidate, Focus: Effective foundation for offshore wind turbines, M.Sc. Suez Canal University, Egypt)
Haitham Aboshasha--Major suppervisor- Dr El Damatty (Ph.D. candidate, Focus: Downburst characterization and its effects on transmisison towers and lines, M.Sc. Alexandaria University, Egypt)
Zeinab Samani -- Major suppervisor- Dr Hangan (M.Sc. student, Focus: Aerodynamic and structural optimization of solar panel support system, B.Sc. Tehran University, Iran)
Former team members at UWO
May Damatty (Undergraduate thesis project, 2013-2014, Focus: Design of high rise buidling for wind, undergraduate student at UWO)
Daniel S. Abdi (Ph.D. 2013, Thesis: Numerical evaluation of aerodynamic roughness for the built environment and complex terrain)
Aditi Jog (M.Sc. 2013, Thesis: Numerical evaluation of downburst interactoin with a bluff body)
Xu Feng Sun (Visiting professor, PhD from Zhejiang University, China; Focus: Membrane structures; Professor at Yangzhou University, China)
Aly Mousaad Aly Sayed Ahmed (Postdoctoral fellow - Jan 2012 to June 2013, PhD from Milan Polytechnic, Milan, Italy; Focus: Wind load on green and energy infrastructures; Current position: Assistant Professor at Lousiana State University) 
Benjamin Raymond Hyland (NSERC USRA, summer of 2013, Focus: WindEEE wind field characterization, undergraduate student at UWO)
Anurup Ganguli  (Visiting undergraduate research assistant, summer of 2012), Focus: Wind load on a wind turbine structure, Undergraduate student at Indian Institute of Techno.-Rajasthan)
May Damatty (Undergraduate research assistant, summer of 2012, Focus: Wind load on transmission line structure, undergraduate student at UWO)
Vincent Crepel    (Visiting master's student , summer of 2012, Focus: Scale effects wind loading of solar panels, M.Sc. student at ENSEIRB-MATMECA Bordeaux)
Former team members at FIU
Aly Mousaad Aly Sayed Ahmed (Postdoctoral fellow - 2011, PhD from Milan Polytechnic, Milan, Italy; Focus: Full-scale hurricane testing methods for low buildings; Current position: Assistant Professor at Lousiana State University) 
Teshome Jiru (Postdoctoral fellow, 2010 – 2010, PhD from Concordia University, Focus: Natural ventilation, Current position: Assistant Prof., Oregon Institute of Technology)
Huang, Peng (Postdoctoral fellow, 2008 – 2009, Focus: Full-scale testing of low rise buildings for hurricane, Current position:  Associate Prof., Tongji University, China)
Workamaw Warisdo (Ph.D. 2013, Thesis: Reducing uncertainties in estimation of wind effects on tall buildings using aerodynamic wind tunnel tests, Current position: Senior Engineer at CPP Wind consulting, FortColins, Colarado)
Dagnew, Agerneh (Ph.D. -2012, Thesis: Computational evaluation of wind loads on buildings, Current position:  Research Scientist –Wind Engineering, AIR Inc. Boston MA)
Tecle, Amanuel  (Ph.D.- 2011, Thesis: Evaluation of internal pressure in low rise buildings, Current position:  Research Scientist-Wind Engineering, EQECAT Inc. California)
Barata  Johann (M.Sc.- 2012,  Thesis: Evaluation of wind loads on single solar panel and arrays, Current position: Engineer, Samsung and CCE, Kingdom of Saudi Arabia).
Daniel J. Rodriguez (M.Sc.-2012, Project: Double Façade Systems)
Esther Calle (M.Sc. -2011, Project: Designing for wind-driven natural ventilation)
Dania Castillo (Undergraduate research assistant, 2010 – 2011, Focus: Wall of Wind construction documentation, Current position, Undergraduate student at FIU)
Hugo Altimari  (Undergraduate research assistant, 2010 – 2011, Focus: Construction & instrumentation of large-scale building models, M.Sc. student at  University of Florida)
Fueze Lekem, Serge (M.Sc.-2011, Thesis: Wind load on roof ridge and field tiles,  Doctoral student at University of Maryland DC)
Lata, Zak (M.Sc.-2011, Project: Mitigation of wind effects on vegetated roofs, Current position: Inspector, New Millennium Engineering)
Londono, Juan   (M.Sc.-2011, Project: Wind turbine placement optimization, Doctoral student at Colombia University NY)
Gonzalez, Adria  (M.Sc.-2011, Project: Wind loads on solar panels: a codal approach, Current position:  Structural Engineer, Jacobs Engineering, Miami, FL)
Sifres, Amelia (M.Sc.-2010, Project: Wind engineering for wind energy application, Current position: Manager, Constructora CSN, SRL, Domincan Republic)
Bilbao, Elsa (M.Sc.-2010, Project: Vegetative roofing systems, Current position: Civil Engineer, U.S. Army Corps of Engineers, Jacksonville)
Khan, Humma     (M.Sc.- 2010, Thesis: Flow management devices for small scale 12-fan WoW, Current position: Quality Control Manager, Odebrecht Construction, Inc.)
Sambare, Dhawal (M.Sc.-2009, Thesis: Full-scale assessment of roof secondary water barrier for wind-driven rain, Current position: Structural Engineer, Pentacle consultants (I) Pvt. Ltd)
Evelyn Rodriguez (Undergraduate research assistant- 2009 – 2009, Focus:  Google sketchup for sustainable building design teaching,  Current position: Civil Designer, EAC Consulting Miami, FL and in parallel MSc student at FIU)
Alfredo Miralles  (Undergraduate research assistant - 2008 – 2009, Focus: LIDAR image processing for aerodynamic roughness estimation, M.Sc. student at Stanford University)
Alvaro Quinonez (Undergraduate research assistant - 2008 – 2009, Focus: Large-scale testing of a low rise building for hurricane,  M.Sc. student at University of Illinois at Urbana Champagne)