Clare Robinson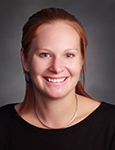 Associate Professor

PhD - Environmental Engineering, University of Queensland, 2007
BEng - Environmental Engineering, University of Queensland, 2002


My Research Group
Awards and Scholarships
Canada Research Chair (Tier 2) in Water Quality [2017-2021]
Visiting Research Scholar, Hohai University, China [December 2016]
Early Researcher Award, Ontario Ministry of Research and Innovation [2012]
International Research Award, The University of Western Ontario [2009 and 2012]
Australian Post Graduate Award, University of Queensland [2003-2006]
Don Nicklen Chemical Engineering Super Scholarship, University of Queensland [2003-2006]
University Medal 2002 (Outstanding academic achievement through Bachelor degree)
Research Interests
Groundwater-surface water interactions in coastal environments.
Understanding the role of groundwater on coastal water quality requires knowledge of groundwater pollution sources and understanding of the basic processes (hydrological, biogeochemical, and microbial) that affect the movement of pollutants in the groundwater and their release to coastal waters.  To learn more about projects in this area click here.
Lead in drinking water
Lead is a toxic heavy metal introduced to drinking water through corrosion of lead pipes in water distribution systems. We are investigating the variables that control lead release and developing a geochemical model to predict lead dissolution in distribution systems with different water chemistries. To learn more about this project click here.
Water quality, supply and treatment in developing countries.
Aquifer storage, transfer and recovery (ASTR) is a potential cost-effective, disaster-resilient water supply alternative for coastal communities in Bangladesh. To learn more about this project click here.
Green roofs
Green roofs provide significant benefits in urban environments including mitigation of the urban heat island effect, attenuation of stormwater run-off, improved energy budget for buildings, and improved building aesthetics and recreational spaces.  To learn more about this project click here.
Groundwater, reactive transport and geochemical modeling.