Clare Robinson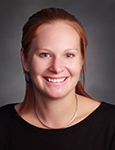 Professor

PhD - Environmental Engineering, University of Queensland, 2007
BEng - Environmental Engineering, University of Queensland, 2002


My Research Group
Awards 
Chandler-Misener Award, 2021, International Association of Great Lakes Research (IAGLR)
Faculty Scholar Award, The University of Western Ontario, 2020-2022
Western Green Award, The University of Western Ontario, 2018
Canada Research Chair (Tier 2) in Water Quality [2017-2024]
Visiting Research Scholar, Hohai University, China [December 2016]
Early Researcher Award, Ontario Ministry of Research and Innovation [2012]
International Research Award, The University of Western Ontario [2009 and 2012]
Research Interests
Groundwater-surface water interactions 
Understanding the role of groundwater on surface water quality requires knowledge of groundwater pollution sources and understanding of the basic processes (hydrological, biogeochemical, and microbial) that affect the movement of pollutants in the groundwater and their release to surface waters.  To learn more about projects in this area click here.
Urban stormwater
Stormwater runoff from urban areas contributes many pollutants of concern to downstream watersheds. We are investigating the nonpoint sources and transport of pollutants in cold climate urban areas and the effectiveness of low impact development stormwater managemenrt practices in reducing pollutant inputs to downstream waters. To learn more about this project click here.
Onsite wastewater systems
A large percentage of households across Canada use onsite wastewater systems (septic systems) for wastewater treatment and disposal.  We are using novel tracers for human wastewater to investigate the contribution of these systems to pollutant loads in streams and rivers including the types and prevalance of failing septic systems.  We are also developing geospatial tools to provide wide-scale estimates of septic system contribution to pollutant loads in streams and rivers. To learn more about this project click here.
Groundwater, reactive transport and geochemical modeling