Julie Shang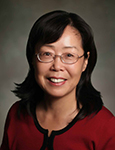 Professor

PhD - Civil Engineering, The University of Western Ontario (1993)
MEng - Civil Engineering, Carleton University (1989)
BSc - Physics, Beijing Science and Technology (1982)

My Research Group
Awards & Distinctions
2008 - Twekesbury Fellowship, University of Melbourne, Australia.


2007 - Certificate of Appreciation for Contributions to the Fourth Edition of the Canadian Foundation Engineering Manual. Canadian Geotechnical Society.


2003 - Gledden Senior Visiting Fellowship, University of Western Australia.


2000 - Canadian Geotechnical Colloquium Speaker, "Electrokinetics in Geotechnical and Environmental Engineering Applications."


1995-2000 - Women's Faculty Award, Natural Sciences and Engineering Research Council of Canada.


1995 - Keefer Medal for paper "Electrical strengthening of clays by dielectrophoresis", by K.Y. Lo, J.Q. Shang and I.I. Inculet. Canadian Society for Civil Engineering.


1994 - Student Paper Competition Award. 42nd Annual Geotechnical Engineering Conference, Minneapolis, MN.


1993 - Graduate Research Fellowship, The University of Western Ontario.


1987-1988 - International Student Graduate Scholarship, Carleton University.


Other Scholarly and Professional Activities
P.Eng. Registration - PEO, since November 1994


Member, Canadian Geotechnical Society.


Member, American Society of Civil Engineers.


Member, International Society of Polar and Offshore Engineering, since 1996


Member, American Electrophoresis Society, since 2008


Member, Canadian Association on Water Quality, 2008


Associate Editor, Canadian Geotechnical Journal, 1995 – 2001.


Editorial Board Member, Geomechanics and Engineering (GAE), an International Journal of Computational and theoretical Geomechnics, Foundation Engineering , Engineering Applications, Site Characterization, since 2008.


Editorial Board Member, ASCE Journal of Geotechnical and Geoenvironmental Engineering, 1994 - 2006.


Member, AFS90, Committee on Chemical and Mechanical Stabilization, Transportation Research Board, the National Academies, USA, 2001 - 2006.


Member, AFS80, Committee on Cementitious Stabilization, Transportation Research Board, the National Academies, USA, 2003 - 2006.


Ontario Confederation of University Faculty Association, Women's Status Committee, member, 2001-2004


Reviewer of technical journals:

Canadian Geotechnical Journal
Journal of Geotechnical and Geoenvironmental Engineering,
Journal of Environmental Engineering, ASCE
Journal of Geotechnical Testing, ASTM
Journal of Environmental Engineering and Science
International Journal of Geotextiles and Geomembranes
Journal of Hazardous Materials
Colloids and Surfaces
Engineering Geology
Journal of the Transportation Research Board
International Journal of Pavement Engineering
Water Resources Research
Separation and Purification Technology
International Journal of Offshore and Polar Engineering
Environmental Science and Technology
Environmental Pollution
Geomechanics and Geoengineering
Chemosphere
International Journal of Polar and Offshore Engineering
Applied clay mineralogy
Geomechanics and Geoengineering

Organizing committee and session chair, ISOPE, 2013, 2014, 2015


Technical committee and session chair, IACGE, Chengdu 2013


Reviewer of research grant applications and judge of award competitions

US NSF Research Grant
NSERC Research Grant
NSERC Strategic Grant
Australian Research Council, Large Research Grant
Hong Kong Research Grants Council
Canadian Geotechnical Society student paper competition
South Africa's National Research Foundation (NRF)
OCE proposas

Associate graduate chair, 2014 - 2016