Ernest Yanful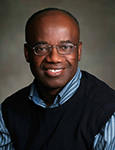 Professor

PhD - Civil Engineering, The University of Western Ontario (1986)
MASc - Geological Engineering, University of Windsor (1982)
BSc (Hons) - Geological Engineering, University of Science and Technology, Kumasi, Ghana (1980)

My Research Group
Awards & Distinctions
2011 Fellow of the Canadian Society for Civil Engineering. Conferred in recognition of engineering excellence and services rendered to the profession and to Canada.


2011 International Ozone Association: Harvey Rosen Award for Best Paper in Ozone Science and Engineering for 2009-2010: "Advanced oxidation treatment of drinking water: Part I. Occurrence and removal of pharmaceuticals and endocrine-disrupting compounds from Lake Huron water" by M. F. Rahman, E. K. Yanful, S. Y. Jasim, L. M. Bragg, M. R. Servos, S. Ndiongue and D. Borikar.


2010 Canadian Geotechnical Society:  Geoenvironmental Award for outstanding contribution to multidisciplinary geoenvironmental engineering practice in Canada and internationally.


2008 Nominated for Harry Jerome Award for Professional Excellence. Black Business and Professional Association of Canada.


2006 Listed in Who's Who in Black Canada: Black success and Black excellence in Canada: a contemporary directory. 2006 Edition. Dawn P. Williams ISBN bound: 097-313-8424.


2005 Canadian Society for Civil Engineering: Thomas C. Keefer Medal for the paper "A design approach for selecting the optimum water cover depth for subaqueous disposal of sulfide mine tailings" by M.A. Samad and E.K. Yanful.


2004 Nominated for Bank of Nova Scotia, The University of Western Ontario Alumni Association and University Students' Council "Award of Excellence in Undergraduate Teaching" The University of Western Ontario.


2003 North American Geosynthetics Society: Award of Excellence Paper for the paper "Experimental soil-based cover system to mitigate ARD in potentially acid generating tailings: Construction and preliminary results" by K. Renken, E.K. Yanful and D. MChaina.


2003 Best Paper in Sustainable Development Session, for the paper "Biodegradation of Impranil DLN (PUR) by Pseudomonas Chororaphis" by Y. Zheng, E.K. Yanful and A.S. Bassi. 53rd Canadian Chemical Engineering Conference Hamilton, Ontario, October 28, 2003.


2002 Faculty of Engineering Award for Excellence in Research, The University of Western Ontario.


1999 Premier's Research Excellence Award, Province of Ontario.


1997 American Society for Engineering Education "Outstanding New Mechanics Educator Award". 


1997 Nominated by Students for Professor of the Year Award Panhellenic Council, The University of Western Ontario


1990 Canadian Geotechnical Society "Honourable Mention" (Runner up for Best Paper Award) for the paper: "Effect of multiple contaminant migration on diffusion and adsorption of some domestic waste contaminants in a natural clayey soil" by F.S. Barone, E.K. Yanful, R.M. Quigley and R.K. Rowe.


1988 Canadian Geotechnical Society "Best Paper Award" for the paper. "Hydraulic conductivity of contaminated natural clay directly below a domestic landfill" by R.M.Quigley, F. Fernandez, E.K. Yanful, T. Helgason, A. Margaritis, and J.L. Whitby.


1987 Natural Sciences and Engineering Research Council of Canada (NSERC) Postdoctoral Fellowship.


1982 University of Windsor Postgraduate Scholarship.


Professional Activities
Convener and Chair, First International Conference on Environmental Research Technology and Policy, ERTEP 2007, Accra-Ghana, July 17-19, 2007. Sponsored by Canadian International Development Agency (CIDA), UWO, Gold Fields Ghana, AngloGold Ashanti Ghana and Newmont Ghana Gold (http://www.ertep2007.uwo.ca/)


Member, Professional Engineers of Ontario.


Chair, London Chapter of Canadian Society of Civil Engineering


Member, Canadian Geotechnical Society (CGS).


Vice President (North America), International Society for Environmental Geotechnology.


Member, American Society of Civil Engineers.


Member, American Society for Engineering Education.


Member, The Clay Minerals Society.


Member, NSERC Strategic Grants Panels on Environment


Member, International Scientific Committee of Georange Program, Sweden.