Abouzar Sadrekarimi, Ph.D., P. Eng.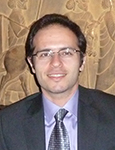 Associate Professor and GRC Laboratory Manager

PhD, University of Illinois, Urbana-Champaign, Geotechnical Engineering (2009)



My Research Group
 "O investigator:
do not flatter yourself that you know the things nature performs for herself,
but rejoice in knowing the purpose of those things designed by your own mind"
(Leonardo da Vinci 1452 - 1519).
Professional Affiliations
Awards & Distinctions
Early Researchers Award, Ministry of Research and Innovation, Ontario, 2016


Outstanding Reviewer of Canadian Geotechnical Journal, Canadian Science Publishing, 2016


John Evans Leaders Opportunity Award, Canadian Foundation for Innovation, 2015


Young Alumnus Award, CEE Alumni Association, University of Illinois, Urbana, IL


Professor Ralph B. Peck Fellowship Award
for outstanding performance at graduate level in geotechnical engineering, University of Illinois at Urbana-Champaign, 2009.


Geoengineering.org Photo Contest Award www.geoengineering.org, 2009.


Best Student Paper Award
Dam Safety 2009, Association of State Dam Safety Officials, 2009.


Best Student Paper Award
GeoCongress 2008 Conference, The Challenges of Sustainability in the Geoenvironment, 2008.


Mavis Memorial Scholarship Award
in recognition of outstanding academic record and promise of productive scholarship, University of Illinois at Urbana-Champaign, 2007.


Professional Engineering Practice
Geotechnical Engineer, Golder Associates Limited, 2009-2011
Involved in site characterization, geotechnical and geotechnical earthquake engineering analysis and design, and static and dynamic laboratory soil testing (isotropic and anisotropic consolidated triaxial compression tests, static and cyclic direct simple shear tests, incremental/constant rate of strain consolidation tests, and bender element tests for shear wave velocity measurements) and interpretation.