Girma Bitsuamlak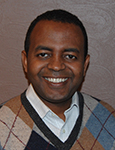 Associate Professor

PhD., PEng.
Associate Director WindEEE Research Institute
Canada Research Chair in Wind Engineering Tier II


Long Term Goal
Contributing towards optimal resiliency of the build environment under sustainability constraints.
News and Upcoming Events
14th International Conference on Wind Engineering, Porto Alegre, Brazil, June 21-26, 2015


Amr S. Elnashai delivers Western Engineering Distinguished Lecture


Girma Bitsuamlak joined CTBUH's (Council of Tall Buildings and Urban Habitat) Expert Panel. He will represent the field of WIND ENGINEERING on this expert panel.


Girma Bitsuamlak to speak at The Centre for Resilience of Critical Infrastructure Seminar Series, University of Toronto.


Girma Bitsuamlak presented an invited seminar on WindEEE at LSU


Invited Seminar: "Large-Scale Testing of Structures for Hurricane, Tornado and Downburst", Department of Bridge Engineering, Tongji University


Invited Seminar: "Multi-scale experimental and computational modeling of wind effects on the built environment", Department of Structural Engineering, Tongji University.