Girma Bitsuamlak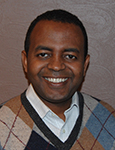 Professor

PhD., PEng.




Director WindEEE Research Institute
Director WindEEE Research Facilities (The Dome + BLWTL + 3LP)
Site Leader Sharcnet
Personal web site (https://bitsuamlak.com)
Bio:
Dr. Bitsuamlak is a Professor in Wind Engineering. His research expertise is in climate-resilient and sustainable buildings and neighborhoods. Currently, his team is actively working on modeling of (i) extreme wind effects on civil infrastructure (e.g., hurricane and tornado), and (ii) interplay between aerodynamics and other micro-climate stressors for assessing sustainable building thermal and energy performance, natural ventilation, and wind-driven-rain/snow effects. His research utilizes a combination of computational fluid dynamics-based simulations (and assisted with Artificial Intelligence) by using a high-performance computing and physical experiments at WindEEE Research Facilities (www.windee.ca). 
Dr. Bitsuamlak serves Director both for the WindEEE Research Institute and WindEEE Research Facilities (The Dome + BLWTL+ 3LP) at Western and Western's Site-leader for the Sharcnet computing center. He is a Fellow of the Canadian Society of Civil Engineers. He has executed wind-induced load and response studies for socially and historically significant super tall buildings such as Freedom Tower in New York, International Commerce Center in Hong Kong, and Burj Khalifa in Dubai in wind tunnels. He is an expert both in experimental and computational wind engineering