Student Wellness Counselling
Student Wellness Counselling
Meet Sara Hanna, Western Engineering's Student Wellness Counsellor.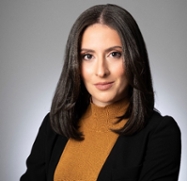 Sara, B.S.W., M.S.W., R.S.W., is a Registered Social Worker with the OCSWSSW. She has experience providing counselling services to young adults in an education setting, as well as in private practice. Sara is well versed in the wide spectrum of pressures and academic demands that post-secondary students face. Sara's therapeutic approach is highly relational and strength-based, as she believes that connection is integral for healing. Yet, she also draws on CBT, Self-Compassion, solution-focused therapy, and internal family systems therapies, among others. Due to her interdisciplinary nature, she further integrates science by offering psychoeducation on the role of the brain and the impact of balanced thinking.
To book an appointment with Sara, please email her at sara.hanna@uwo.ca. 
Please note that Sara sees students by appointment only, and not on a crisis basis, and her emails are monitored only during regular hours (9:00 a.m. to 4:00 p.m. Monday to Friday).  Allow 24-48 hours for a response.
For on-campus crisis support, please visit the crisis clinic in Thames Hall, room 2170 to be checked-in. Students can call 519-661-3030 to get booked. Please note that the crisis clinic operates between 11:00 a.m. to 4:30 p.m.