Student Wellness Counselling
Student Wellness Counselling
Meet Laura Donelan, Western Engineering's Student Wellness Counsellor.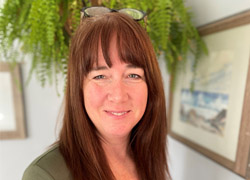 Laura joined the Western Engineering Undergraduate Team in January 2021.
Laura, MSW, is a Registered Social Worker with the OCSWSSW. She has more than 20 years of experience providing counselling services to young adults in an education setting. Laura is well versed in the wide spectrum of challenges that post-secondary students face. She is especially skilled at assisting people to identify the gifts and abilities that they have to deal with those challenges. Laura works with a canine partner (introduced below).

NSD Holly- was bred and trained by National Service Dogs in Cambridge Ontario. She is a certified Facility Dog and was the first dog from an ADI (Assistance Dogs International) accredited organization to be placed with a school social worker in Ontario. Holly has been working as Laura's "co-therapist" for 7 years and she is gifted in her role. She is perceptive, calm, affectionate and very "in the moment"!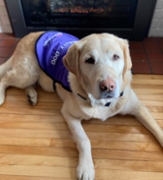 Please book an appointment with your Academic Counsellor or Clare Tattersall to be referred to Laura.