Chief resident of neurosurgery earns PhD in Biomedical Engineering
Jonathan (Jon) Lau, MD, PhD, hopes his research will result in safer and more precise surgical therapies for patients suffering from neurological illnesses.

Then
Jon started his academic career at the University of Waterloo in computer science with a specialization in bioinformatics. "I always had the mindset that there would be a way to apply my general computational background to medicine," he recalls. While pursuing his medical degree at Queen's University, he became interested in neurosurgery.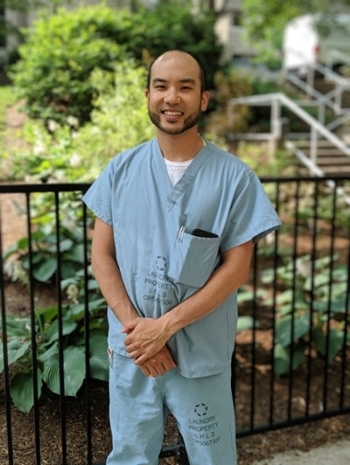 "In addition to the culture of surgical innovation and technical excellence in neurosurgery at Western University, one of the main draws for me to come here was the opportunity to work with Professor Terry Peters and the image-guided interventions group," Jon says. "His team is internationally renowned for contributions in the field of image-guided surgery."
Upon matching into the Western neurosurgery residency program (part of the Department of Clinical Neurological Sciences), Jon immediately started collaborating with the Peters lab (with co-investigator Professor Ali Khan) through the Schulich-funded Clinical Investigator Program (CIP). "The collaboration made so much sense," Jon recalls transitioning to a PhD from the CIP. "Having already been exposed to clinical medicine and neurosurgery, it was easy to see that certain aspects of patient care could be improved. In the Peters and Khan labs, I felt very fortunate to be working alongside grad students coming from engineering, neuroscience, and physics backgrounds. It quickly became clear that with the right minds put together, innovation can come pretty easy."

Now
Jon's doctoral research looks at ways to improve the safety and accuracy of neurosurgical procedures using imaging. "The foundation of my PhD thesis begins with a very simple premise – that if we can see brain structures better, we can target them better," Jon explains. "As an example, in deep brain stimulation (DBS), small electrodes are implanted deep in the brain. Accuracy is crucial. If you're off, there could be unwanted side effects, or worse, a complication."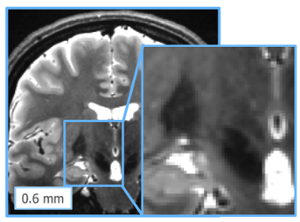 "By seeing the anatomy better, we can perform more refined surgical targeting leading to improvements in the quality of therapy the patient is receiving and also can lead to reductions in operating room time." Jon uses the ultra-high field (7-Tesla, 7T) MRI scanner, directed by Professor Ravi Menon from the Centre for Functional and Metabolic Mapping. The 7T MRI scanner allows him to see brain structures smaller than one millimetre in living patients.
Although Jon's work – both in the lab and the OR – gives him great satisfaction, balancing a PhD in biomedical engineering while being the chief resident of neurosurgery has not been easy. When asked how he achieved this, without hesitation, he states "by having a very supportive family." Jon is a husband and father of two young children. "On the professional side, choosing collaborations wisely and delegating appropriately is key," he explains. "Research is fun and comes easy when you work with people who are similarly enthusiastic and passionate about their work."
Next
After Jon finishes his residency, he and his family will move to Atlanta, Georgia where Jon has accepted a functional neurosurgery fellowship at Emory University. He will continue his existing collaborations with researchers at Western University.
"Hopefully we can promote more clinicians to be involved in work with biomedical engineers, and vice versa," Jon says. "The collaborative nature of BME research is very rewarding to me – you get people coming from different perspectives in a room together and can achieve great things."