Message from the Director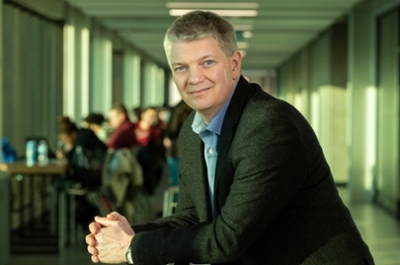 Welcome to the new School of Biomedical Engineering (BME) at Western University. We are a multidisciplinary network of dedicated staff, innovative faculty, and talented graduate students with a common goal to improve health care through the application of engineering principles. We're excited to extend our ambitions to our new undergraduate concurrent degree program, launching in the fall of 2019. We're also thrilled to call the new student-focused, sustainable Amit Chakma Engineering Building our new home.  
Western is one of Canada's top research universities. Since the establishment of the graduate programs, the foundation of BME in 2001, this has been exemplified time and again. The School currently trains 85 graduate students who are distributed among the School's four research pillars – biomaterials, biomechanics, imaging, and mechatronics – working to address health-care challenges in fields such as cardiovascular disease, neuroscience and mental health, cancer, and musculoskeletal health and rehabilitation.  Our graduate students learn from and carry out research with a diverse community of mentors including engineering faculty, basic biomedical scientists, medical and health science clinicians, and industry partners.  Many graduate research projects bridge two or even three of BME's research pillars, for example, by using medical imaging and 3D printing to develop patient-specific orthopaedic implants.  Our graduates have progressed into successful careers in university teaching and research, as engineers and programmers in the medical device industry, as physicians, and as founders of medical device start-up firms. Please explore AHead Simulations, LifeLike Biotissue, and Vital Biomedical Technologies to learn how five BME graduates are enhancing medical interventions and training.
Biomedical engineering research at Western benefits from our close collaboration with our four partner faculties – Engineering, Health Sciences, Science, and the Schulich School of Medicine and Dentistry – and partnerships with the Lawson Health Research Institute, Robarts Research Institute, and Western's affiliated hospitals (London Health Sciences Centre and St. Joseph's Health Care London). These partnerships provide our students with access to state-of-the-art research facilities, such as Canadian Surgical Technologies and Robotics at University Hospital, the Imaging Research Laboratories at Robarts Research Institute, the Wolf Orthopedic Biomechanics Laboratory at the Fowler-Kennedy Sports Medicine Clinic, and the Hand and Upper Limb Centre at St. Joseph's Healthcare. Our collaborative nature allows limitless opportunities to address health-care challenges. 
Our new undergraduate BME program is structured as a five-year concurrent degree program in which students will complete a degree in biomedical engineering and a degree in a core engineering discipline. The BME portion of the program will provide students with interdisciplinary training at the interface of engineering and the biomedical sciences. The flagship experience of the program is a year-long research project carried out under the supervision of a faculty mentor at one of the School's research sites across campus and the city of London.  Enrollment in the program is limited to 30 students per year to maintain a close-knit community among the students and to ensure students are involved in high-calibre research projects and receive ample individual mentoring.  The concurrent-degree structure is expected to set graduates up for success in engineering positions in the medical device industry, graduate studies in world-leading BME programs, and admission to medical school.
We look forward to continuing working together to discover innovations to improve human health. Please contact us for more information.
James C. Lacefield, Ph.D., P.Eng.
Director, School of Biomedical Engineering
Professor, Department of Electrical & Computer Engineering
Professor, Department of Medical Biophysics