Biomechanics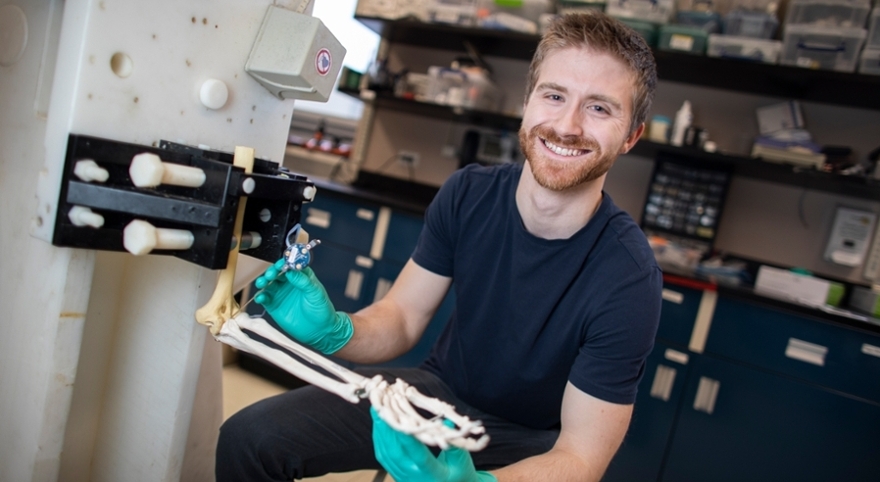 Biomechanics research applies concepts and methods from mechanical engineering, physics, surgery, kinesiology, and rehabilitation sciences to create technologies to treat bone, joint, and muscle disorders and to improve patient's mobility and independence. Active topics at the School of Biomedical Engineering include:

Design of shoulder, elbow, and hip implants with greater durability and biomechanical performance and design of technologies to improve the precision and reproducibility of surgical procedures to position those implants. Western researchers are developing implants with embedded sensors to monitor post-surgical healing and implant wear.  Western researchers are also combining imaging with additive manufacturing (i.e., 3D printing) techniques to create implants with patient-specific sizes and shapes.
Development of assistive technologies to support patients during rehabilitation from stroke, musculoskeletal diseases, and sports injuries as well as devices to improve the mobility of users during healthy aging.
Investigation of the biomechanics of impact and trauma with a focus on the causes, diagnosis, and prevention of concussions and spinal cord injuries.
Image-based computational modeling of the mechanical properties of soft and hard tissues for applications such as diagnosis and treatment of heart failure and skeletal and joint disease.
Investigation of the fluid mechanics of blood flow and ventilation to improve diagnosis and treatment of cardiovascular and respiratory diseases.
BME's biomechanics labs are affiliated with Western's Bone and Joint Institute, the Hand and Upper Limb Centre at St. Joseph's Healthcare, and the Wolf Orthopedic Biomechanics Laboratory at the Fowler-Kennedy Sport Medicine Clinic.
Faculty members

James Dickey
Louis Ferreira
J.M. Floryan
Daniel Goldman
David W. Holdsworth
Yara Hosein
Thomas Jenkyn
James Johnson
Hanif Ladak
Emily Lalone
Haojie Mao
Grace Parraga
Aaron Price
Remus Tutunea-Fatan
Ryan Willing
Jun Yang