Civil Engineering - Environmental Engineering Option
Civil Engineering — Environmental Engineering Option
What is Environmental Engineering?
Environmental engineers minimize society's impact on the environment, playing an integral role in designing a sustainable future. They combine mathematics, physics, chemistry, biology and geology to develop solutions for a wide range of environmental problems including adapting to the effects of climate change and managing increased demand of water supplies.
View Environmental Engineering FAQs.
Careers in Environmental Engineering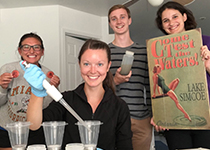 Environmental engineers can work in consulting, industry, government, non-government organizations or research.
Possible careers include:
Forecasting and mitigating climate change impacts
Green infrastructure
Drinking water services
Water resource management 
Clean up of contaminated sites 
Design of municipal infrastructure 
Informing policy development
For an inventory more than 120 environmental career profiles, see ECO Canada.
View courses for the Civil Engineering — Environmental Engineering Option.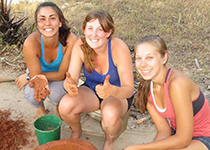 Environmental Engineering students can participate in the International Development option which introduces students to the complex societal, political and economic issues impacting engineering activities in less developed communities.
Students participating in the ID option are encouraged to complete a summer placement abroad between years 3 and 4. ID students have travelled to Madagascar, the Gambia, Ghana, China and India.
View courses for International Development with the Environmental Engineering Option.
Opportunities in Environmental Engineering
Recent graduates from Western's Civil Engineering (Environmental Engineering Option) program now work for companies including:
AE, AECOM, Bellatrix Exploration, CAWST, CH2MHill, Dillon Consulting, EarthFX, Geosyntec, GM BluePlan, Golder Associates, Google, Imperial Oil, Savron and more.
Our Alumni — Where Are They Now? 
Liz Evans, BESc'13, is now an Environmental Engineer at AECOM.
Simon Hodge, BESc'12, is now an Environmental Engineer at Dillon Consulting.
Lauren Hockin, BESc/BSc'11, spent 4 years as an Engineer with BCG, and is now pursuing a MESc at Simon Fraser University studying hill-slope stability under earthquake conditions in Nepal.