Past Projects
 University Machine Services has worked with several clients at Western University, in the London community and beyond.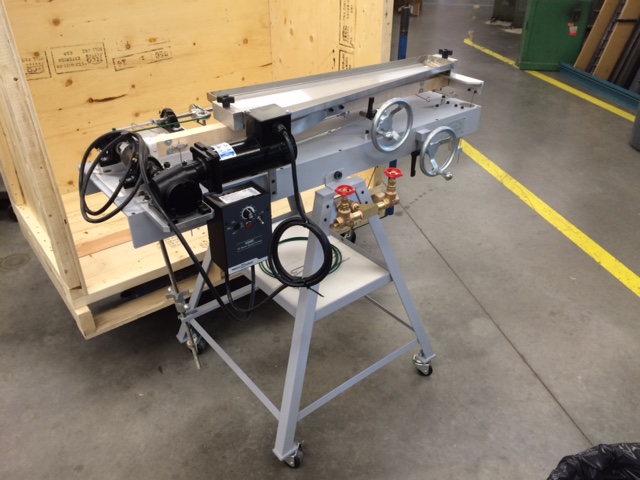 Super Panner, used as a particle clarifier in the mining industry.
Customer testimonies:
Leo Millon, CEO & CTO, LifeLike BioTissue Inc.
"I have used the services of the UMS for over 12 years now. I worked with several people there during the years, in projects that I had to design as part of my PhD and past fellowships at Western University. I am currently the CEO and CTO of a Western start-up company, LifeLike BioTissue, and we still use UMS as our main machine shop for all of our R&D and production molds and tooling.

The people at the machine shop, from managers to workers are very personable and always ready to help. They always take the time to look at the initial design and offer their insight, expertise and experience to advice on how to improve the design at hand. They always delivered jobs on or before the expected delivery time. If there is an issue with any of the designs or molds, they will always try to fix it fast and without any extra expense to get the job done right.

As I have evolved from a student to an independent business owner, I know I can always count on UMS to do their best to try to solve any problems that I may have and provide me and my company with quality products at a competitive price."

Jean-François Millaire, Department of Anthropology, Western University
"I needed replacement parts for the archaeological field equipment I use in Peru. However, before ordering from the US-based dealer I contacted Western's University Machine Services. Not only were they willing to machine the parts on campus in a timely manner, but their price was very competitive. I also felt it was right to encourage Western and the London industry sector. From now on they will be my first contact."
Don Stephenson, assistant to the Dean of the Don Wright Faculty of Music for technology and keyboards, Western University

"They like to take on projects that are not typical. Something like this (restoring an 1893 Bechstein baby grand piano belonging to the Royal Conservatory of Music) was really exciting. I just wanted to see if it could be repaired. It was a long shot. I called and explained the situation and asked if it was possible to repair. Clayton Cook replied, 'I can do that!'"

Read the Western News article about the restoration.