Engineering alumnus on a journey driven by passion

James Kempston, BESc'07, CEO of NP Aerospace (submitted photo)
If you are fortunate to connect with Western Engineering alumnus James Kempston, BESc'07, you will find he has a passion for excellence.  Kempston is the CEO of NP Aerospace, a global armour technology manufacturer which serves military and law enforcement customers. They have facilities in Coventry, England, and London, Ontario that manufacture ballistic helmets and shields, explosive ordnance disposal suits, body armour plates, and composite armour for aircraft, vehicles, and vessels.
After graduating from Western in 2007, Kempston started an I.T. sales consulting business, navigated his way into the data storage industry and even got into the art business. During this time, Kempston, unknowingly, was honing his business development skills and finding his passion. 
In 2009, he was recruited by a local defence company Armatec Survivability as a Research and Development Engineer. It was in 2012 that Kempston moved to NP Aerospace, where he accepted a role as Business Manager for Canada. He would go on to hold multiple senior positions at NP Aerospace before purchasing the business and being named CEO in 2018.   
Kempston is revered as an accomplished corporate executive, director, and research and development engineer specializing in government aerospace and defence contracts. NP Aerospace has integrated and supported over 2,000 military vehicles and supplied one million combat helmets to NATO and allies and more than 300,000 body armour plates to the British and Canadian Armed Forces, including armour into Ukraine. 
We caught up with Kempston to learn about his experiences and get advice on how Western students can follow their passion. 
Can you share your major career highlights including your current role as CEO of NP Aerospace?
A career highlight is my acquisition of NP Aerospace. We have a little over 260 employees worldwide and will continue to pursue organic and inorganic growth, especially in North America, where we are expanding our distribution footprint. This year, NP Aerospace is forecast to make over C$100 million in sales, doubling the figure from 2021, but it is humbling to speak to somebody alive today because of the products we make.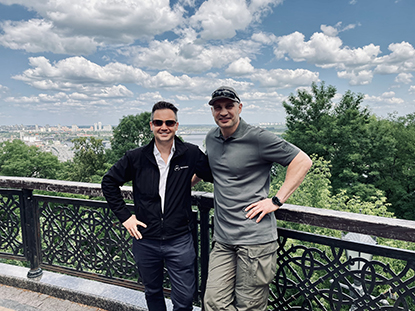 We got contracted quite early in March this year and provided the first set of personal body armour to Ukraine. Since then, we have delivered about 93,000 body armour plates and 84,000 of our ballistic helmets, along with approximately 80 vehicles with armour as well.
I was honoured to be hosted by Mayor Vitali Klitschko during my visit to Kyiv, Ukraine in June as part of NP Aerospace's ongoing support in protecting the lives of Ukrainian soldiers. I strongly believe in giving back to society and made a substantial donation to support humanitarian efforts in Ukraine.
I am very proud of the life-saving products we make daily and in my role as CEO, I set the goals and strategy for the business; look at the overarching picture, and ensure that the team is empowered to do what they need to do to deliver projects.
Can you describe your student experience at Western Engineering and how your engineering education prepared or influenced your career?
My experience at Western Engineering was excellent. Western is a great university. It was busy. I had 35-plus hours a week in class, additional hours studying and probably another 40 - 60 hours working on Western's Formula Racing Car.  We worked hard but it didn't really feel like work as we were having fun and building bonds that would last a lifetime. 
I learned a lot of theoretical and technical skills in class, but my work ethic, management, leadership, and people skills were really honed through my involvement in the race car, especially when I managed the team in my final years. 
I'm sure that's a familiar story for many engineering students enrolled at Western but being involved in experiential learning outside of the classroom, really set me on the right path to success.  
As Captain of Western's Formula Racing Team, what did it mean to you to reconnect with classmates and see the current students of the Formula Racing Team during Homecoming this year?
I have remained very close friends with some of my racing team colleagues over the years. It was great to see my old team, the current student team, and the car.  Technology continues to advance.  I had fleeting thoughts of, 'Will some of them form the same lifelong bonds with their fellow team members' and 'I hope they get as much out of it as I did'.  
The advantage we had in the mid-2000s is the team was 100 per cent self-run by students, meaning it was completely up to us to make it a success.  This sometimes meant working 48 hours straight (and yes, that happened) to ensure things got done. Sadly, this reflects the real world of business as "things happen" and sometimes you need to be prepared and able to work smart and sometimes very long hours.  
Do you have any advice for students or young alumni just starting out in their careers?
It is a journey.  Don't be fooled by those around you or on social media showing instant success.  Develop a strong work ethic and be prepared to work long hard hours to achieve your goals. I don't know a single self-made successful person who didn't work for it.  Rarely is anything instant and what you see online is rarely a true picture of reality.  
Find your passion. Do something that complements your passion and do it the best you can - preferably better than anybody else and success will come out of it.  It may not be instant and will take some time. 
Take calculated risks. Don't be afraid to do things that make you uncomfortable and be sure to say "yes" to opportunities for it is better to fail while trying than not to try at all. I think it is also important to learn from others and reflect on your experiences.  Be sure to plan and execute while being flexible because perfection never wins, so don't try to be perfect.  
Finally, I would say that success is subjective and personal. It is not money or fame but what you define, so be sure to define what success means to you and drive toward your definition, not somebody else's. 
What drives your inspiration and what other efforts are you passionate about? 
I like to win, and similarly, hate to lose.  These are vastly different, but it drives me to be the best I can be. That's not always a good trait but it does provide the motivation I need to achieve my goals. 
I'm passionate about mixing creativity with engineering – art and science.  I want to continue pushing the boundaries of what is technically possible but make it look good in the process. 
As I get on with my career, I am finding more passion for helping others and doing things which are good for the world.  Time will tell what this means, but as I mentioned before, life is a journey and sometimes you don't always know where it will take you.