Western Formula Racing team hits the track with new EV

Western Engineering News | July 16, 2019
Western Engineering's Formula Racing Team recently competed in their final race of the summer at the Pittsburgh Shootout, a one-day FSAE autocross held at the Pittsburgh International Race Complex. 
The team was very proud to show up to the race with not just one, but two cars – a new 2019 Electric Vehicle and the team's 2015 car. After confronting torrential downpours and putting down about a dozen laps each, the WFR15 finished 14th, and the WFR19-EV finished 8th overall.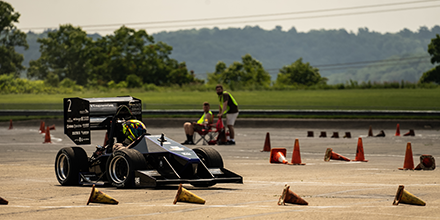 Western Formula Racing is only the 8th team in North American history to have a competitive EV in its first competition year, out of a total of 60 teams who have competed in EV. 
Adding to the team's impressive list of successes, Western's EV was also the second fastest EV of the day, only second to McGill, the 2019 champions of FSAE Electric. 
The 2015 car proved to be quite reliable as well, after having been in storage for the past four years. The 2015 car sported carbon fibre rims and experienced no failures – a project that has been five years in the making, starting as a master's thesis and evolving into an alumnus' project.
"Overall, I believe the weekend was a historic moment for both our team and Western Engineering," said Western Formula Racing Team Lead Julien Bertone. "Our team couldn't do what we do without the support given to us from the faculty, whether it be knowledge from the faculty, space to work, the right machines and tools, trucks and trailers, talented administrative staff, machinists, and shop supervisors, or funding through the student's project fund."