El Damatty honoured for excellence in research
Western Engineering News | May 28, 2021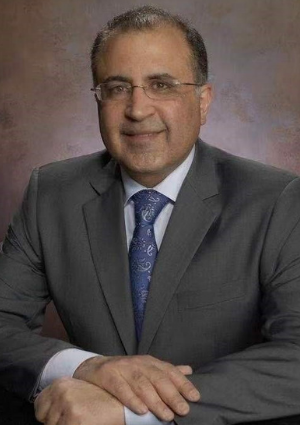 Each year, Western Engineering presents a faculty member with the Engineering Award for Excellence in Research to recognize their outstanding research contributions. Civil and Environmental Professor and Department Chair Ashraf El Damatty is this year's recipient, recognized for his internationally leading expertise in the area of Structural and Wind Engineering.
"As I reach my 25th work anniversary at Western, I am delighted to celebrate this milestone with such an honourable recognition," said El Damatty. "This award reflects an exciting journey with the Department of Civil and Environmental Engineering at Western. Throughout these years, I encountered pioneers that inspired me, I witnessed colleagues excel to become the highest of achievers, and I worked with younger generations full of talent and rising stars. As a Department Chair, I hope that this award inspires my department such that Civil and Environmental Engineering at Western remains amongst the top in the world."
El Damatty has been lauded for both his fundamental and practical contributions in the field of Structural and Wind Engineering. In August 2020, the first guidelines in the world that provide means to design transmission line structures to resist tornadoes and downbursts were published by the American Society of Civil Engineering (ASCE-74). These new guidelines resulted from research conducted by El Damatty and his research group. 
El Damatty has been the principal and co-principal investigator for research grants at Western, exceeding $20 million. His current NSERC Discovery grant of $50,000/year was the highest awarded in Structural Engineering for the 2016 competition, underscoring his ranking at the pinnacle of success and impact in his field in the country.
Forty-four graduate students have obtained their degrees under El-Damatty's supervision, and he has mentored 12 postdoctoral fellows and hosted numerous visiting scholars.
"Research is exciting and fulfilling," adds El Damatty. "It gives us the opportunity to make the world a better place and to assist our students in reaching their full potential."
El Damatty holds honorary professorship at four international universities, and was invited to deliver 17 keynote presentations at international conferences organized in 10 different countries. He has lectured in 19 reputable universities across the globe and chaired/co-chaired six national and international conferences.
El Damatty is also the recipient of numerous awards and recognitions, which include most recently the 2018 Ontario Professional Engineers Engineering Medal for Research and Development, and the 2020 Changjiang Scholar Award, which is the highest academic award in China offered to renowned international scholars including Nobel Prize Laureates.
The seemingly endless list of achievements and accolades listed above just scratch the surface of El Damatty's exceptional research efforts. Letters of support from colleagues and former students from around the world emphasize his substantial success and the impact of his research on the engineering profession worldwide.
Professor of Structural and Wind Engineering at the University of Genova and past president of the International Association of Wind Engineering, Giovanni Solari recalled a conversation with El Damatty back in December 2013, during the 8th Asia-Pacific Conference on Wind Engineering held in Chennai, India.
"[El Damatty] had delivered a beautiful keynote lecture on the effects of high intensity wind on transmission line structures, and I had the opportunity to speak with him directly," said Solari. "I was extremely impressed by his kindness and education and, even more, by the extreme enthusiasm and genuine passion with which he spoke of research and engineering."
In a congratulatory video submitted by Professor and Associate Chair of the Department of Civil and Environmental Engineering Jason Gerhard, he invited the Western Engineering community to join him in congratulating Ashraf for his outstanding and inspiring dedication to research excellence.
"I've given you only a portion of Ashraf's research success; the full story is too long for this video," teased Gerhard. "Ashraf's research improves the world we live in and inspires a whole new generation of engineers."
In accepting this year's Engineering Award for Excellence in Research, El Damatty thanked his family for their endless support over the years, and all of his gifted graduate students who have played a major role in his successes. He also thanked colleague and dear friend Jason Gerhard, who nominated him for the award.
Western Engineering will honour both the 2019/20 and 2020/21 award recipients at a virtual celebration on June 3, 2021.