Research leads to re-design of transmission lines to resist downbursts and tornadoes
Western Engineering News | September 15, 2020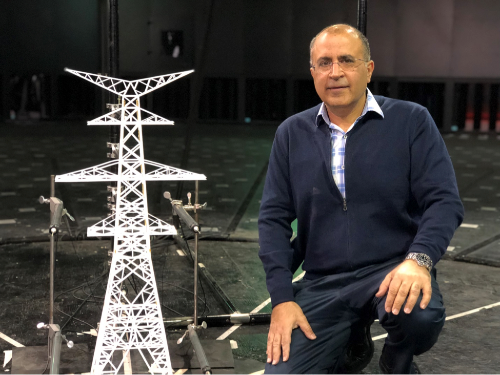 The first guidelines in the world that provide means to design transmission line structures to resist tornadoes and downbursts were published by the American Society of Civil Engineering (ASCE-74) on August 21, 2020. These new guidelines resulted from research conducted by Western Engineering professor Dr. Ashraf El Damatty and his research group. 
For the past eight years, Dr. El Damatty, Chair of the Department of Civil and Environmental Engineering and Research Director of the WindEEEE Research Institute, worked with the ASCE-74 committee to produce the guidelines alongside his former PhD student Dr. Ahmed Hamada, current President of Intelligent Engineering Design, and Dr. Tom Mara, Associate Director of the Boundary Layer Wind Tunnel.
These new guidelines represent a very important milestone for the transmission line industry and for the Wind and Structural Engineering community, as the failure of high-voltage transmission towers during downbursts and tornadoes is a major problem that affects many countries around the world including Canada, causing devastating economical losses and social distress.
Dr. El Damatty worked with two of the largest electrical utility companies in Canada, Manitoba Hydro and Hydro One, to help them better understand the cause of failure of transmission line structures during downbursts and tornadoes, and to find ways to mitigate the effect of those wind events and prevent power outages from happening in the future.
"It is very rewarding to see the results of our research implemented in practice," said El Damatty. "To witness how research can help make the world a better place and better prepare us for natural disasters is the ultimate achievement for a researcher."
Western's Wind Engineering, Energy and Environment Research Institute (WindEEE) was instrumental in El Damatty's research, helping his team to recognize weak elements in structures and experiment with new ways to upgrade the structures. WindEEE is the only three-dimensional wind testing facility in the world where large-scale structural models can be tested under tornadoes and downbursts. 
"Western has always had a strong influence and impact on wind load provisions for different structures around the world," said El Damatty. "And I am very proud to help continue that tradition of leading research and practice of Wind Engineering here at Western."
Dr. El Damatty went on to add how proud he is of his team and the many graduate students who contributed to this accomplishment, including his former PhD student Amal El Awady, who is currently an Assistant Professor at Florida International University.
Dr. El Damatty's research was supported by electrical utility company Hydro One, the Natural Science and Engineering Research Council of Canada (NSERC), and the Ontario Center of Excellence (OCE), with funding exceeding $2.0M.
For further information on Dr. El Damatty's research, visit the ASCE Library online.