Memorial Lecture Speaker Gina Cody Calls for Equality, Diversity and Inclusion

Western Engineering News | March 9, 2020
"Why do we have memorials? A memorial is a promise. It's a promise to those who have passed away. It is a promise to ourselves. It is a promise to the world that we will not forget."
Canadian-Iranian engineer, business leader and philanthropist Gina Cody served as the distinguished guest speaker at Western Engineering's 29th Annual Lynda Shaw Memorial Lecture on March 5, 2020.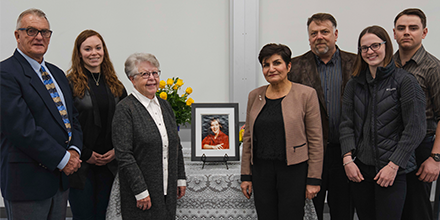 With International Women's Day occurring just a few days later on March 8, 2020, Cody encouraged the audience to celebrate the successes of women around the world, the growing empowerment of girls and women, the strength of young female role models and leaders, and the courage of the women who have stood up and spoken out.
This year's International Women's Day theme, Each for Equal, promotes the message that an equal world is an enabled world.
"Around the world and here in Canada, women still do not have an equal place in society," said Cody. "We have these days of remembrance and memorials to remind of us of what is at stake and what we are fighting for."
Two years ago, Cody made a commitment to be an advocate for equality, diversity and inclusion by making an historic $15 million gift to Concordia University's Faculty of Engineering and Computer Science. Cody was the first woman to be awarded a PhD in building engineering at Concordia University. In honour of her professional accomplishments and her generosity, the faculty was renamed the Gina Cody School of Engineering and Computer Science, which is the first engineering faculty in Canada, and one of the first internationally, to be named after a woman.
"My dream is for a world where fields of study and work divided by gender are a thing of the past," said Cody. "I wish I could say we are almost there, yet sadly, there is a lot of work to be done."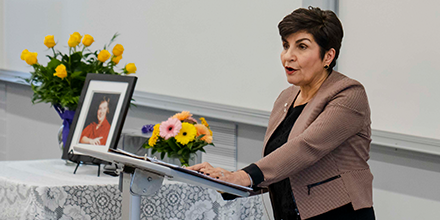 Cody shared a story from her time as president of Construction Control Inc. where men would call the company asking to speak with the boss. When they were transferred to Cody, they would again ask to speak with "the boss."
"I am the boss," Cody would say. "I have a PhD in building engineering. How can I help you?"
"That got their attention but not their respect," she said. "They weren't doubting my education. They were doubting my competency as a woman and an engineer." 
To close the gender gap, there needs to be more female role models and leaders in the field of engineering.
"How can we expect young girls to want to be something they don't even know is a possibility?" asked Cody.
Shifting the conversation to a more solemn tone, Cody stressed that we live in an increasingly polarized time.
"Xenophobia is making a resurgence, and we are seeing a growing fear of the Other. The narrative driving much of this fear mongering and hate relies on misinformation, lies and ignorance. The best way to combat this narrative is by putting a face on the Other." 
Reflecting on the recent tragedy of Flight PS752, in which 176 lives were lost – many of whom were destined for Canada, and four of whom were Western students – Cody noted that the event touched so many Canadians because we recognized ourselves or someone we loved in the lives of the victims. 
"As faces and stories were put to names, the narrative painting them as the Other became impossible," said Cody. "When we take the time to look past the statistics, titles, nationalities, sexual orientations, genders and religions, we see people filled with dreams, fears, love and aspirations just like ourselves."
Encouraging a more diverse society isn't just morally and ethically right, argued Cody; it's smart business. 
A study by McKinsey and Company found that firms with greater gender diversity among their executives were up to 21% more profitable than their male dominated counterparts. Additionally, firms with greater ethnic diversity were up to 33% more profitable than their less diverse competitors.
"A society that celebrates diversity is richer, more vibrant, imaginative and creative," said Cody. "This is why we need to give everyone a proportional seat at the table."
Cody closed her talk with a simple call to action. She asked that everybody do one thing this year to promote equality, diversity and inclusion, whether it be at work or school, or among family and friends.
"Each of you has the power to effect change," said Cody. "Change is the culmination of countless small actions that, alone, go unnoticed; but, together, they shake the foundations of our world."