Former Dean named among Order of Canada recipients

Western Engineering News | January 29, 2020
Updated February 10, 2020: Dr. Mohan Mathur peacefully passed away on February 6th, 2020 in Vancouver BC. He was visiting family and unexpectedly became ill. He was appreciative about the support he received for this prestigious honour of being invested into the Order of Canada. Celebration of Life details can be found here. 
---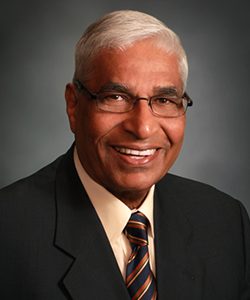 Former Western Engineering Dean (1987 – 1999) and nationally renowned electrical engineer Mohan Mathur is among the latest Canadians to join the Order of Canada, one of the country's highest honours. Mathur has been honoured for his leadership in the field of electrical engineering in academia and industry, as well as for efforts to enhance and expand the profession in Canada.
In 1996, Western Engineering established the Mohan Mathur Award for Excellence in Teaching. The award is presented annually to an outstanding Western Engineering faculty member who embodies Mathur's values.
After retiring from academia in 1999, Mathur became Vice President, Nuclear Training Support and Services Division at Ontario Power Generation. Mathur is also the founding president and CEO of the University Network of Excellence in Nuclear Engineering, an initiative promoting research and training through a consortium of 11 universities across Canada and the nuclear power industry that receives matching grants from the government of Canada.
Mathur, who most recently served on the London Hydro Board of Directors, joins the 120 new Order appointments announced December 27, 2019.
"Dr. Mathur is a true visionary leader whose contributions to the engineering profession, and particularly to the Western Engineering community, are profound," said Western Engineering Dean Ken Coley.
"On behalf of our faculty, I would like to congratulate Dr. Mathur on this well-deserved honour."