Former Dean Mohan Mathur's Celebration of Life 
Please find 
Celebration of Life 
details below: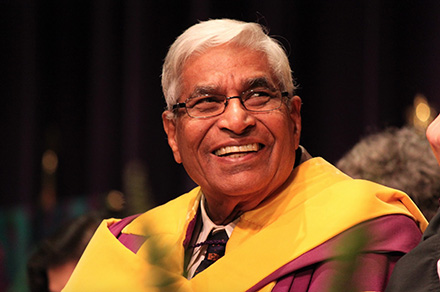 Saturday, March 7th, 2020
1:00 – 4:00 pm
Tribute 2:00 pm
London Hunt & Country Club
1431 Oxford St W, London, ON N6H 1W1
Official Obituary
Radhey 'Mohan' Mathur (1936 – 2020) passed away peacefully in British Columbia, Canada on February 6th, 2020. He was surrounded by his loving family. He lived a life full of passion with purpose, respect, integrity, excellence, enthusiasm and benevolence that serve as an inspiration to all the lives he touched. Mathur recently was invested into the Order of Canada as an academic and a catalyst of change locally, nationally and across the globe. This culminated his storied career as Dean of Engineering, University of Western Ontario, Chair of London Hydro, Founder and CEO of UNENE (University Network of Excellence in Nuclear Engineering). He was a pioneer and visionary leader among many community organizations he served with or started since arriving to Canada in 1969. A strong believer in education, he transformed many University programs through curriculum, delivery and amalgamation of multi disciplines. Above all he was a family man and humanitarian that advocated equality through action. He connected with all generations and served as an inspiration to everyone. He may be gone, but never forgotten.
He is succeeded by the love of his life, wife of 54 years Aruna, son Tinu, daughter Shikha, son-in-Law Maneesh, grandsons Jai, Akash and granddaughter Ashna.