CANCAM 2015: Bringing together world leaders in the field of mechanics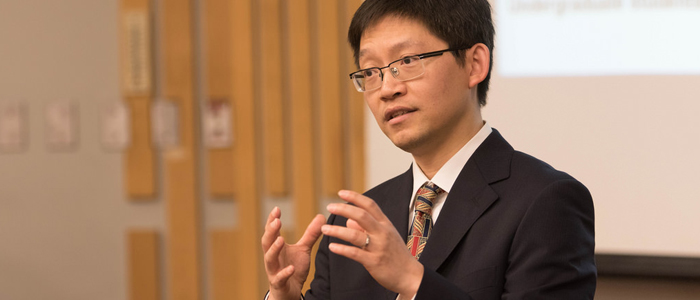 Western Engineering News | July 9, 2015
By Gordon So
Between May 31 and June 4, the Department of Mechanical and Material Engineering held the 25th Canadian Congress of Applied Mechanics (CANCAM 2015) at Western. CANCAM is a biennial engineering conference started at the Université Laval in Québec City in 1967. Over the past 48 years, the event has grown into a premiere scientific forum at which national and international researchers present their latest advances in the fields of mechanics, with applications to mechanical, civil, materials, aerospace engineering and related areas. 
CANCAM 2015 was the second time that Western has hosted the congress, having previously held the event 30 years ago, in 1985. The conference included six plenary lectures and more than 200 technical papers, which were organized into 51 thematic sessions spanning four days. The event attracted 224 delegates, mainly from across Canada, the United States and South America.
"CANCAM is a conference specific to the field of mechanics," explained Mechanical Engineering Professor Aaron Price. "Mechanics is a very broad term in engineering and it applies to many diverse topics. It's one of the fundamental pillars of engineering. Regardless of what discipline you end up studying, whether it be mechanical or civil engineering, mechanics is critical, as the same mathematical principles apply." 
CANCAM 2015 featured plenary sessions delivered by respected researchers within the engineering community, including: Professor David Weaver, the honorary chair of the conference and professor emeritus with Mechanical Engineering at McMaster University; Professor Gregory Kopp, Civil Engineering professor and Associate Dean (Graduate and Postdoctoral Studies) for Western Engineering; and Professor Jun Yang, Associate Professor of Mechanical Engineering at Western University.
Weaver kicked off the conference with a plenary speech about the changing face of applied mechanics from 1967-2015. In his talk, Weaver detailed the evolution of the history of mechanics, and prompted the attendees to understand the limitations of ever-advancing technology, through which we discover solutions to our problems, and critically evaluate the results they produce.
Kopp initiated the second day of CANCAM 2015 with a talk titled, "Assessing Wind Speeds in Tornadoes from Observed Damage." Kopp's expertise relates to mitigating damage to structures during extreme windstorms such as tornadoes and hurricanes. His speech introduced the knowledge gap in the measurement of damage and wind speed, and examined future research directions for this issue.
During his talk, "Design and Micro/Nano-engineering of Functional Materials, Surfaces and Devices: From Fundamentals to Applications," Yang discussed the recent advances and applications in micro/nano-engineering techniques that have enabled research in functional material reach unprecedented heights.
While these plenary sessions highlighted broad topics attractive to a wide audience, the congress also broke out into numerous parallel sessions throughout the day for attendees interested in specific topics, such as aerodynamics or biomechanics. In these sessions, engineers presented their latest discoveries in their respective fields of research.
The conference was a platform for engineering researchers to showcase their work and network. As participants learn more about each other's projects, it opens up opportunities for future collaborations within the international community, Price said.
"CANCAM was a great opportunity to showcase the excellent research we conduct and the world-class facilities we have here at Western," said Price. "The feedback I've received from attendees has been very positive in this regard. This event has certainly reinforced Western Engineering's already solid reputation as a very strong institution in the field of mechanics amongst both the national and international engineering communities."
CANCAM 2015 also featured technical tours where attendees were introduced to the research facilities at Western, including the WindEEE Research Institute and Fraunhofer Project Centre for Composites Research. WindEEE is equipped with an experimental wind tunnel where researchers can simulate different wind systems and assess their damage to structures; while the Fraunhofer Project Centre specializes in the development of lightweight materials for the automotive industry.