Research team excited about WindEEE Dome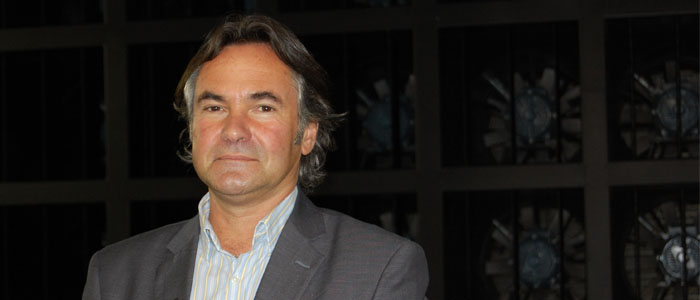 Western Engineering News | June 13, 2014
Western University offered media a sneak peek of WindEEE (Wind Engineering, Energy and Environment) Dome, the world's first 3D wind testing chamber, on Monday, June 9.
WindEEE Dome is world's first three-dimensional wind testing chamber, which allows scientists to address important scientific, economic and societal challenges related to wind, while evaluating energy potential and damage risks.
"This chamber can create real tornados… not 'tornado-like' vortexes," emphasizes Horia Hangan, Western Engineering professor and founding Director of WindEEE.
"The whole team is really excited."
The media event included the demonstration of a tornado simulation inside the wind-testing chamber. Hangan also discussed the unique research opportunities for the facility located at the Advanced Manufacturing Park.
Targeting research related to the three EEEs – Engineering, Energy and Environment – WindEEE has the capability of physically simulating high-intensity wind systems, including tornadoes, downbursts, gust fronts or low-level nocturnal currents, that cannot be recreated in traditional wind tunnels, which only allow straight-line wind flows.
As this is the first of its kind, the research team is currently completing tests to ensure the facility performs as expected and is securing research contracts.
WindEEE can simulate tornadoes from EF0 to EF4 and wind speeds of up to about 30-40 metres per second. The next step of this process is putting buildings of different sizes and shapes into the simulation.
WindEEE differs from other wind tunnels because they blow wind in one direction at a constant speed. However, the unique design and specialized fans allow researchers to manipulate the wind speeds and direction.
"There is no such wind that blows in one direction at a constant speed," notes Hangan, emphasizing the WindEEE Dome will be able to produce simulations unlike any other wind tunnel in the world. "It is basically like (in) nature."
It is important to be able to recreate tornadoes or other wind events because numerical simulations can only give you part of the picture – in reality wind fields are not stable and this is difficult to account for in numerical calculations, notes Hangan. The 3D wind-testing chamber "is a little more fine than what numerical simulations can show."
Maryam Refan, research scientist at WindEEE, has been with the project from the beginning – from seeing Hangan's drawing on a napkin to a small-scale model, and now the completed facility.
"Tornadoes are my passion," she enthuses. "I'm really looking forward to doing the research here."
Refan isn't afraid to get up close to her research subject – for the past few summers has been chasing tornadoes throughout the U.S.
"It gives me a perspective on how they really form," she says. "You never know if that storm is going to drop a tornado or not."
Most people think of tornadoes as a singular rotating funnel, however in the field she has see multiple small funnels collecting around them. This phenomenon can be recreated in WindEEE.
While it may be difficult to predict the weather, Refan feels designing sustainable cities will help to mitigate the damage of tornadoes and similar high wind storms.
"If you don't have safe buildings or structures, even if you give people enough (warning) time, what are you going to do?" she asks.
Research at WindEEE will involve making hydro transmission lines more resilient; studying the effects of wind on solar panels; and designing wind turbines, wind farms and sustainable cities.
While it may take 10-15 years for the research findings to be implemented and inform industry standards, "(WindEEE) will pretty much have the same impact as the Boundary Layer Wind Tunnel Laboratory," predicts Hangan.
WindEEE has already established an extensive national membership with more than 40 researchers from 18 universities across Canada. Internationally, WindEEE collaborates with more than 30 institutes across four continents.
Western is considered the global birthplace of the modern practice of wind engineering thanks to the pioneering efforts of Alan Davenport at the Boundary Layer Wind Tunnel Laboratory, which opened in 1965.
Click here for more information on WindEEE.
Photos of the media event are available here.