Director's Notes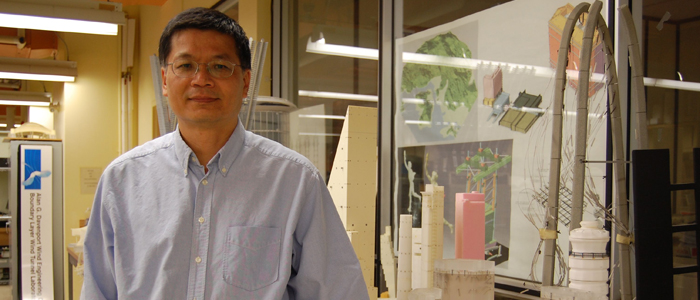 Message from Eric Ho
Director, Boundary Layer Wind Tunnel Laboratory
We welcome you once again into our world of wind engineering.
Some have said the field of wind engineering has matured and that little in the way of new ideas and concepts are left to discover. It has matured to a large extent, but there are novel designs and components that are in much need of research and engineering. These include new solar panel designs, double layer façade designs, solar chimney applications, natural ventilation issues, sunshade elements, wind energy structures, etc.
The Boundary Layer Wind Tunnel Laboratory (BLWTL) primarily carries out specific testing programs for single projects. But at the end of the day, we need to synthesize the knowledge we have gained by doing these studies and feed the results back into general use in the form of codes and specifications. We endeavour to close the loop on the research and engineering cycle.
This year has been an exciting one, especially to see the successful publication of the Wind Wizard book which celebrates the life and work of Alan Davenport. The book launch this past spring was well attended at the campus of Western University.
At the book launch, visitors had the opportunity to have a preview visit of the WindEEE (Wind Engineering, Energy and Environment) Dome site. The official opening of this facility will be October 17, 2013. This will be another reason for celebration with the significant jump in research capability that this unique facility will bring to Western.
Together with BLWTL and the Insurance Research Lab for Better Homes (IRLBH), the researchers at Western will have a strong pool of infrastructure to tackle many of the research-oriented and practical problems which face society.
Please feel free to forward this newsletter to a friend or colleague. Should you wish for technical information, please visit our website or contact us via e-mail with a specific request.
Contact us if you have ideas for future newsletters, any comments, questions or concerns.
Sincerely,
Eric Ho
Director, Boundary Layer Wind Tunnel Laboratory