Western reimagines the future of batteries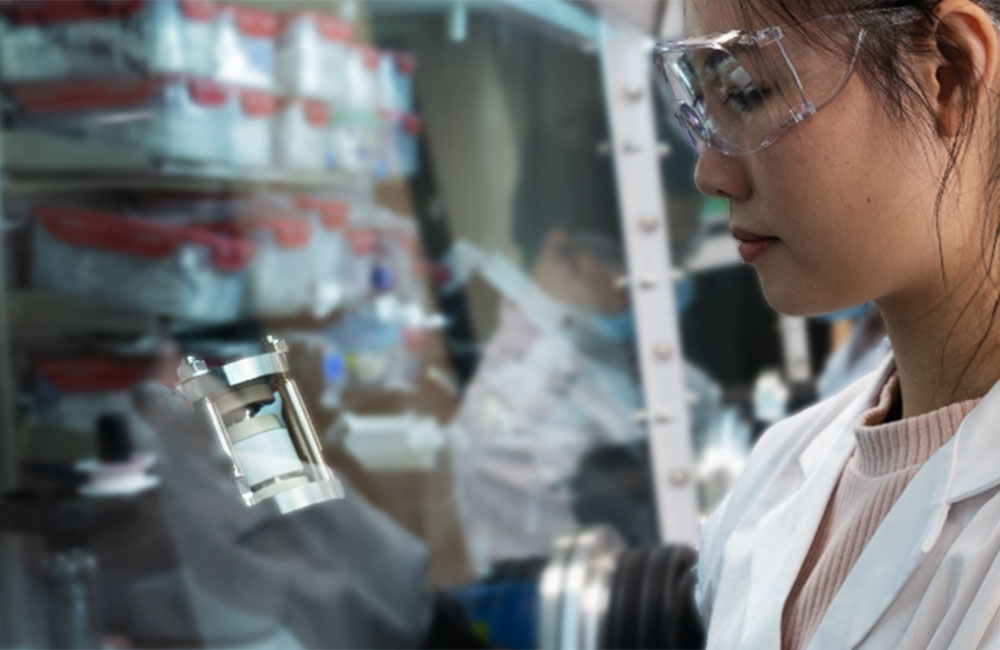 Jing (Erica) Luo, a postdoctoral fellow in Xueliang (Andy) Sun's research group, holds a model-type solid-state battery. These battery materials can be potentially used in portable electronics, electronic vehicles, and grid energy storage.
At Western Engineering, we believe that today's most complex challenges require us to work collaboratively across disciplines and continuously identify and move ahead of emerging trends to create a sustainable future.
This is why Engineering researchers have been working to reimagine the future of "next-generation" batteries to solve current challenges related to energy storage.
Professor Xueliang (Andy) Sun and assistant professor Yang Zhao, both from the department of mechanical and materials engineering at Western University, believe that lithium-ion batteries (LIBs) have become a key player in addressing the growing need for energy storage devices. They add, however, that the technology can further benefit from improvements in terms of safety, lifespan and energy density.
"LIBs are indispensable for portable electronics, electric vehicles and grid-scale energy storage," says Sun. "However, the currently used commercial LIBs employ flammable liquid electrolytes and thus pose serious safety hazards when misused like overcharging."
Zhao added, "the ability to meet the enormous demand for LIBs depends on the availability of lithium resources, and lithium is not regarded as an abundant element in the Earth's crust." He lamented that the cost of lithium-containing materials has also rapidly increased, resulting in proportionally increased costs for LIBs.
Next-generation Batteries
Developing next-generation energy-storage technologies with innate safety and high energy density is essential for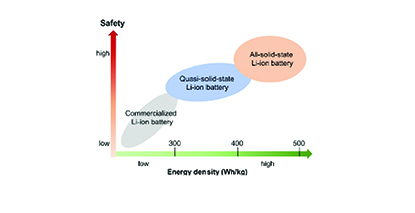 large-scale energy-storage systems. Sun and his research group have made tremendous advances with solid-state batteries (SSBs) to make them both incredibly energy dense as well as highly safe to use.
Sun, a Canada Research Chair in Nanomaterials for Energy Conversion and Storage, is renowned for developing solutions to solve critical and long-standing problems in clean energy. He has won top honours from several associations including the International Battery Association, and has worked with several industry partners including the Automotive Partnership of Canada – an initiative by the Canadian Government that supports significant, collaborative R&D activities to benefit the entire Canadian automotive industry.
Zhao's research asks a different question of lithium batteries. What if we didn't need to use lithium at all? Zhao expands the possibilities of next-generation batteries by replacing lithium with sodium. The sodium-ion battery recharges by using sodium ions as its charge carriers.
"They have been proposed as an ideal complementary alternative to LIBs for EVs and large-scale energy storage applications because of the high abundance, low cost, and suitable oxidation-reduction potential of sodium," shared Zhao.
"My research will also explore the use of other elements like potassium, magnesium or zinc but, one of the advantages of sodium is that it is in abundant supply."
Wearable batteries
The application of next-generation batteries goes beyond the use of electric vehicles and grid-scale energy storage. Many electronics or devices have become flexible, wearable, rollable or foldable. Recent advances in materials and manufacturing processes have enabled many new applications for these devices including electronic paper, curved screens, foldable or rollable displays, flexible solar cells, tunable lens, artificial muscles, skin sensors and wearable biomedical devices for health monitoring.
To supply the necessary energy to ensure their proper functioning, mechanical and materials engineering assistant professor HaoTian (Harvey) Shi says, "flexible yet lightweight energy storage systems, such as thin-film textile supercapacitors or batteries, must be utilized." 
Shi's research has led to the development of flexible thin-film batteries with a number of practical applications. As these batteries don't use lithium, they have no risk of leakage or explosion and are a very attractive option for medical applications.
In combination with moisture sensors, these batteries can be used in a "smart diaper", providing caregivers with a warning of a wet diaper. And on the other end of the spectrum, these batteries can be used in monitoring devices for the elderly that will give early signs of medical distress.
Whether it's batteries that are safer and longer lasting or batteries that are breaking new ground in their application, there are incredible strides being made in energy storage. Excitingly, there are also many opportunities to make further advances. Western Engineering continues to move the dial as we reimagine what's possible.