2023 FIRST Robotics Competition comes to Western this weekend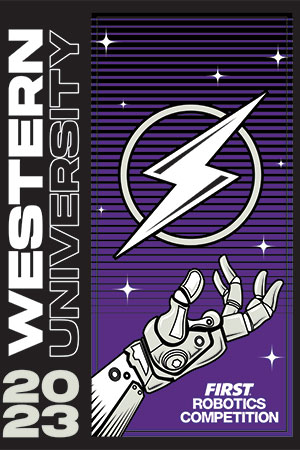 Western University is proud to support a sport of the mind in action! Join us for the FIRST Robotics Competition at the Thompson Recreation Athletic Centre from Mar 18 – Mar 19, 2023. 33 teams and their robots, built and programmed by Ontario high school students, will compete in an epic battle that combines sport, science, and teamwork.
FIRST Robotics Competition is an annual competition where high school students build, program, and test their machines using engineering, coding, and design skills.
They've worked in teams to design, build, program, and test their machines using various skills like CNC machining, CAD, math, programming, and welding. Under strict rules and limited resources, teams raised funds through community outreach, designed a team brand, honed teamwork skills and created a robot that could perform the prescribed tasks against a field of competitors.
It's as close to "real-world" engineering as a student can get. Teams with the highest rankings and awards will move to the FIRST Robotics Competition World Championships in Houston, TX, in April 2023.
"At Western Engineering, we have a continued commitment to support initiatives that allow elementary and high school students to experience science, technology, engineering and mathematics in a truly positive way," says Ken Coley, Dean of Western Engineering.
"And for over 25 years, FIRST Robotics has been doing just that, inspiring thousands of young people to become the STEM leaders of tomorrow."
In this year's competition teams are inspired to see the potential of energy storage in a new light as they compete to charge up their communities. Using renewable energy can transform our communities, but only if it is effectively stored and delivered to those who need it. The power of engineering can help make a meaningful difference.
This year's challenge addresses global challenges related to United Nations Sustainable Development Goal #7 -- focused on ensuring access to affordable, reliable, sustainable, and modern energy for all.
The FIRST Robotics Competition event takes place at Thompson Arena 1231 Western Rd, London, ON N6G 1H3.