Western alum wants to break the mould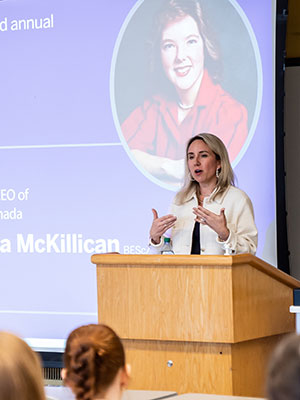 Western Engineering alum, and Former CEO of McKesson Canada, Rebecca McKillican, BESc'/HBA'03, served as the distinguished guest speaker at Western Engineering's 32nd Annual Lynda Shaw Memorial Lecture on March 9, 2023. The Lynda Shaw Memorial Lecture Series was established in memory of Lynda Shaw, a third-year mechanical engineering student at Western who was murdered near Highway 401 in 1990.
In her talk, McKillican shared her personal journey from 'imposter' to finding and embracing her 'whole self' and doing things her way. She also shared how Lynda Shaw played a profound role in her life.
"I was 11 years old when Lynda was tragically killed," said McKillican. "I didn't know what engineering was, but I really could feel the impact that she had and what a leader she was. I knew she was doing important things."
"She showed me that women can contribute in many different ways, and not just the ways that media and popular culture tell us we can. I could tell she was breaking the mould."
"In high school, I loved learning about engineering, but I remember looking around the classroom and thinking, 'Wow, where did all the girls go?' and you step back and ask, 'should I be doing something else?'"
"It was at that point where I said, 'I'm going to break the mould' and do something that wasn't expected of me. And I was the only woman from my grade that ended up going into Engineering."
McKillican's journey after Western began by taking a senior role in strategy consulting with McKinsey & Company before attending Harvard for her MBA. After Harvard and five years at a New York-based investment company, Kohlberg, Kravis & Roberts, McKillican took on a role at Well.ca.
She would later become CEO and President of Well.ca as she grew the online health and wellness retailer to become recognized as one of Canada's largest e-commerce retailers. During that period, McKillican also joined the National Bank of Canada's board of directors. 
"Throughout my career, maybe like some people in this room now, I've had to deal with the dreaded 'imposter syndrome'," said McKillican. "Whether it was joining the board of directors at the National Bank or becoming a CEO in an industry where I knew the least of anyone in the room. But I leaned on the skill set that I learned in Engineering, leaning on that curiosity and problem-solving skillset."
"And I wish I knew then what I know now, which is that expertise isn't everything. Engineers are trained to be critical thinkers and we know how to work in teams to solve complex problems, so lean on that experience when you can."
"It's okay to be comfortable. It's uncomfortable to be uncomfortable, but it's when we're uncomfortable that we grow.
Well.ca would later be acquired by McKesson Canada and McKillican, as CEO, led more than 12,000 employees. Rebecca worked hard to pave the way for diversity at the most senior levels of McKesson. She advocated for inclusion, so that every employee could succeed and make a meaningful contribution to the organization.
This year's International Women's Day theme is 'embracing equity' and McKillican believes a truly equitable work environment is one where we can all be authentic to ourselves.
"What I learned from Lynda – and what I learned as a woman in my career – is that embracing equity means celebrating our differences, celebrating our own and others' diverse experiences and truly embracing our whole selves. And when we embrace equity within ourselves and others we can seize new opportunities and drive success."
From L-to-R: Murray Taylor, Maddy Gander, Fernanda Pereira, Rebecca McKillican, Dean Ken Coley, Carol Taylor, Tony Straatman