Western Engineering students shine at Canadian Engineering Competition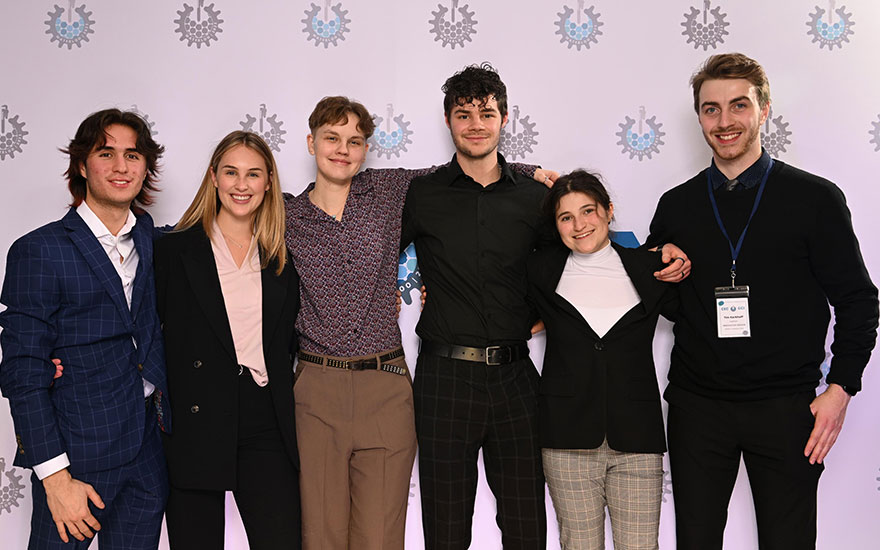 Ocean's 6 was represented by Western Engineering students (l-to-r) Tristan Paventi, Melanie Blackburn, Meghan Kings, Joshua Horkits, Siena Ianni-Palarchio and Timothy Kerkhoff.

The Canadian Engineering Competition (CEC) was held in February at the University of Waterloo and brought engineering teams from across the country to identify Canada's top engineering student teams. 
Teams competed in eight categories, which include junior design, senior design, re-engineering, innovative design, programming, consulting, debate and engineering communications.
Western Engineering's Innovative Design team, Ocean's 6, took home the Canadian Grand Challenges Award presented by Engineering Deans Canada. Ocean's 6 was represented by Western Engineering students Melanie Blackburn, Joshua Horkits, Siena Ianni-Palarchio, Meghan Kings, Tristan Paventi and Timothy Kerkhoff.
Their innovative design was a system to not only remove harmful algal blooms from Lake Erie, but to use them as a source of biofuel for carbon-neutral power generation. 
The Canadian Grand Challenges Award is awarded based on an innovative design that can meet the six Canadian Grand Challenges in a feasible and promising way. The six directives are:
Resilient infrastructure
Access to affordable, reliable, and sustainable energy
Access to safe water in all communities
Inclusive, safe, and sustainable cities
Inclusive and sustainable industrialization
Access to affordable and inclusive STEM education

In another great showing for Western Engineering, the debate team took home 2nd place. Team members Jeffrey Martinovic and Simon Hungate (pictured below) had to navigate topics ranging between effective student evaluation in engineering, the legality of companies damaging unsold goods and the status of e-sports in varsity athletics.