Western Baja SAE unveils new vehicle for Baja SAE Oregon 2023 competition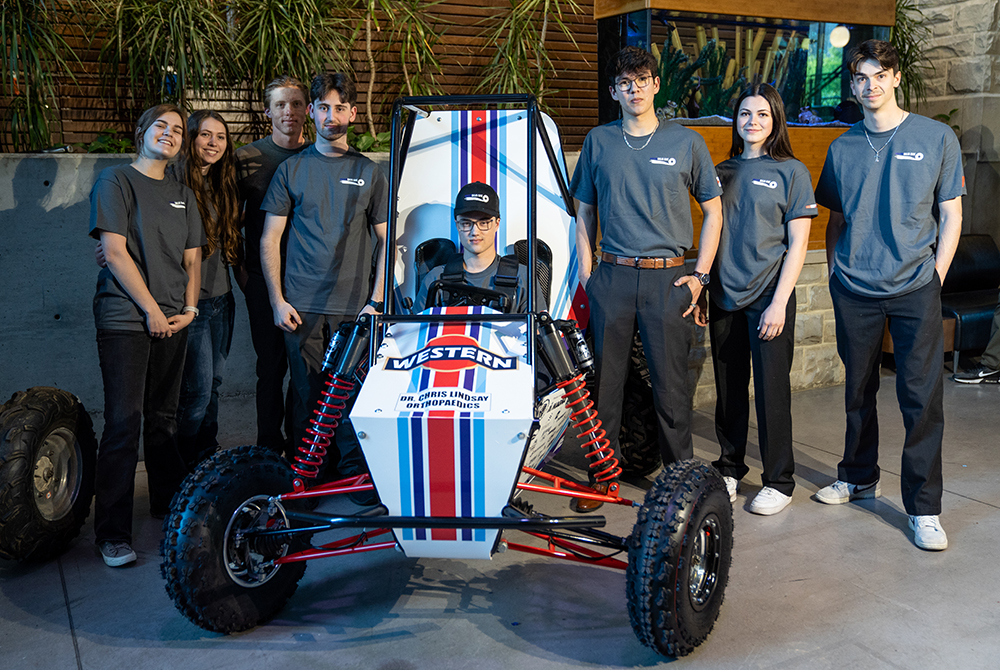 Western Baja SAE, a student-led engineering team from Western University, is excited to announce the completion of its 2023 off-road racing vehicle. The team has been working tirelessly since the fall of the 2022/2023 school year, designing, building, and testing their new vehicle in preparation for the upcoming Baja SAE Oregon 2023 competition. 
This international event, which runs from May 31 to June 3, will field teams from Canada, the United States, Mexico, Saudi Arabia, and India to showcase their engineering prowess on the challenging terrains of the Washougal MX Park located in Washington in the United States.  
"We are beyond excited to showcase all the hard work that went into building this vehicle and show off its sporty new look," said Justin Chuang, a graduating Mechatronic Systems Engineering student and Western Baja SAE Team co-captain. 
"We're thrilled to have the opportunity to represent Western University and competing in competitions like these helps us to learn things that we can't learn in the classroom." 
Baja SAE competitions have been taking place since 1976, offering engineering students a platform to tackle real-world engineering design projects and the associated challenges. The objective of the competition is to provide SAE student members with a demanding project that involves the design, planning, and manufacturing tasks typically encountered when introducing a new product to the consumer industrial market. Teams will participate in dynamic events, including acceleration, maneuverability, hill climbing, and suspension. 
In accordance with Baja SAE rules for the 2023 race season, all participating teams are required to implement four-wheel drive in their vehicles. Western Baja's 2023 vehicle features a brand-new frame and aero package that is both lightweight and durable. The team has also developed a custom-designed 4x4 gearbox and selectable 4x4 differential lock, enabling the vehicle to maximize power output for tackling tough terrains. Additionally, an on-board data acquisition and monitoring system provides real-time performance feedback to the driver, allowing the team to make necessary adjustments during the competition. 
Looking forward to next week's competition, the team is eager to put their new vehicle and themselves to the test. With a goal of a top 15 finish in their sights, the Western Baja SAE team believes they can deliver this result. 
Expressing their gratitude, Chuang acknowledged the team's sponsors, saying, "What we have done here today would not be possible without our sponsors. We are beyond grateful to have the opportunity to not only work with you but also to represent you on this international stage. You have helped to provide us with an educational experience that is unmatched."