New Scholarships contribute to student success at Western Engineering
Enriching the student experience with scholarships and awards propels our students to financial stability and confidence while positioning them for success. This opportunity is exactly why four industry partners have generously supported the establishment of new awards critical to helping students focus on their studies and reach their full potential.
These awards are integral to Western Engineering's commitment to providing transformative and inclusive learning experiences that prepare our scholars to chart an impactful career path forward.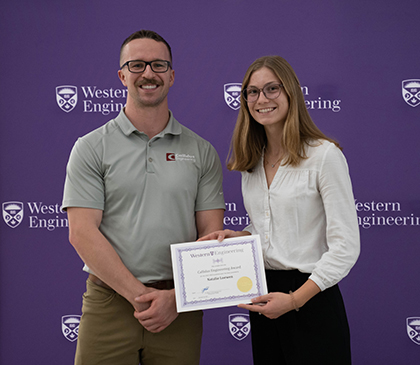 "We created the Callidus Engineering Student Engineering Scholarship to support students within our own profession and our community to alleviate the financial burden often associated with post-secondary education," said Nathan Albion, electrical department manager at Callidus Engineering. 
For recipient Natalie Loewen, a third-year mechanical and materials engineering student, the award proves that hard work pays. 
"Receiving this award has made all my hard work worth it. It feels good to be recognized in that way and have some of the financial pressures of school alleviated," shared Loewen, who received her award at the Western Engineering Fall Awards Ceremony in November. 
Established by a generous gift from engineering firm Callidus Engineering, the award supports full-time undergraduate students in the Faculty of Engineering and is based on academic achievement. 
Chorley + Bisset Ltd. is a mechanical and electrical consulting engineering company known for its philanthropic efforts in the City of London. The company annually supports the Chorley + Bisset Ltd. Consulting Engineers Engineering Award which is valued at $2,000 to aid full-time second or third-year engineering students. 
The 2022 recipients of this award were Adam Gorski, a third-year mechanical engineering student, and Catherine Tse, a second-year electrical and computer mechatronic systems engineering student. 
Last year the company strengthened its support by creating the Chorley + Bisset Ltd. Bursary in Engineering for first-year students in need of financial aid.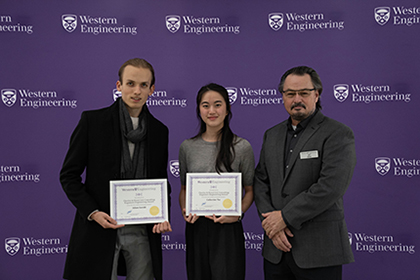 "One of the key values our organization was founded upon is giving back to the community and providing financial support for engineering students aligns with this value," said Mike Myatt, Vice President at Chorley + Bisset Ltd.  
"We are so delighted to have a well-established scholarship fund and we are very proud to build a bursary focused on the financial needs of students." 
In addition to a world-class student experience, we believe that equity, diversity, inclusion, decolonization, and Indigenization are vital to Western Engineering's future. With that in mind, Enbridge and NOVA Chemicals have answered the call with awards that help support scholars of equity-deserving groups to achieve success in their studies and beyond. 
The Enbridge Award in Engineering was established by Enbridge for full-time undergraduate students in Engineering and is based on academic achievement. The award supports female students who self-identify as Indigenous, Black, or racialized persons of colour.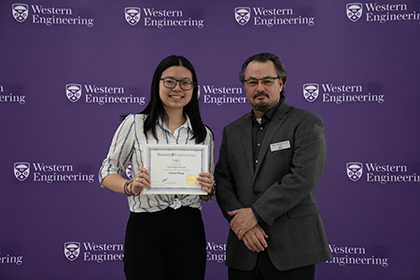 "It's great to see companies like Enbridge support female students in their engineering endeavours and I'm grateful to have my efforts recognized through this award," shared Emma Wang, a second-year electrical engineering student and the 2022 recipient of this award. 
Western Engineering student, Lucas Harvey is the recipient of the NOVA Chemicals Indigenous Scholarship in Engineering award. With support from NOVA, it is awarded annually to a full-time Western Engineering undergraduate student who identifies as First Nations, Inuit or Métis, and is based on academic achievement. 
Western Engineering is honoured to receive the support of NOVA Chemicals, Enbridge, Chorley + Bisset Ltd., Callidus Engineering and countless alumni and partners. Through their generous contributions, we are able to recognize and celebrate our scholars as they are nurtured to become distinguished engineers and researchers.