Nancy Marconi: Meet the Western Engineering alum innovating and modernizing energy regulation in Ontario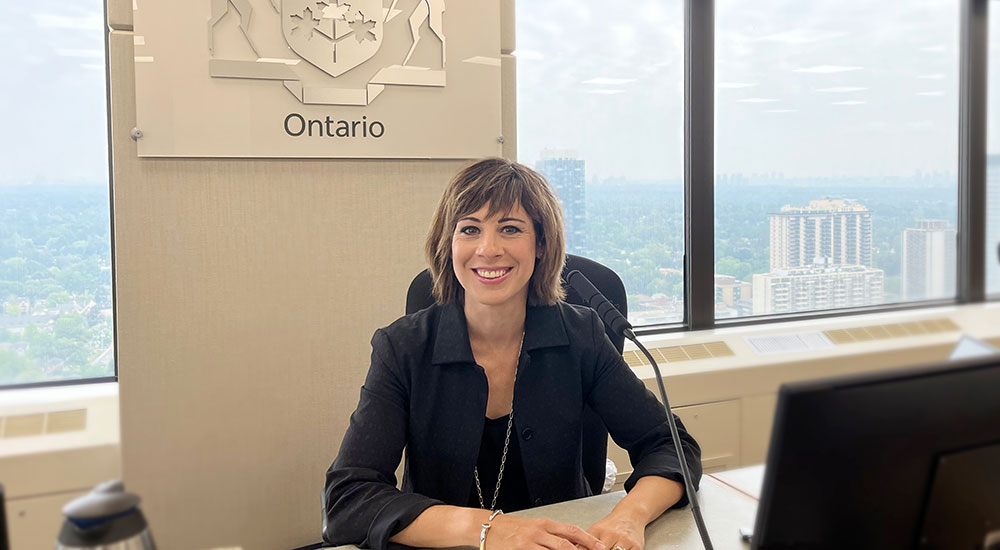 From fieldwork to industry regulation, Nancy Marconi, BESc'02, has explored the energy sector from a variety of viewpoints. Currently the Registrar for the Ontario Energy Board (OEB), the province's independent regulator of the electricity and natural gas sectors, Nancy has leveraged her Western Engineering experience to excel in a role that requires strong technical knowledge and constant collaboration.
We caught up with Nancy to learn more about her journey in the world of energy regulation, her Western Engineering experience and her advice for future engineers looking to work in the energy sector.
Tell us about your career path that led you to your current role with the Ontario Energy Board?
Upon graduating from Western Engineering, I joined Ontario's largest electricity transmission and distribution service provider, Hydro One.  As a member of their new graduate training program, I was provided with the opportunity to rotate through several different areas of the company.  I spent time in the engineering and asset management groups, as well as in the field, and finally settled in the System Planning group, developing capital transmission projects. 
In 2005, when the Ontario Power Authority (OPA) was created to develop long-term, province-wide electricity plans for Ontario and procure generation and conservation resources, I jumped at the opportunity to broaden my energy sector perspective.  I worked in the Power System Planning division, specifically designing transmission infrastructure at the community and province-wide level.  I had the opportunity to help develop a 20-year power system plan for Ontario, as well as integrated regional electricity plans for communities like Northern York Region, Windsor-Essex and Southern Georgian Bay.  I enjoyed figuring out how to best meet each area's growing electricity needs, while balancing cost, feasibility, and the views of stakeholders. 
My next role saw me shift into the regulatory affairs group at the OPA, which later became the Independent Electricity System Operator after the two organizations merged.  I enjoyed applying my technical knowledge to help secure regulatory approvals for building infrastructure and providing input into proceedings and consultations before provincial, federal and international regulators.  
In 2016, I had the opportunity to expand my regulatory knowledge by moving to the Ontario Energy Board (OEB).  Initially, my team managed applications for approval to construct gas and electricity facilities.  We also set Regulated Price Plan prices for residential and small business customers each spring and fall.  In 2019, my team became responsible for all applications for changes to generation and transmission rates too, and in this role, we helped set new rates for both Ontario Power Generation and Hydro One.   
About a year and a half ago, I became the Registrar at the OEB.  My team manages the adjudicative process for more than 300 applications filed with the Board each year.  We are the first ones to touch a new filing and the last ones to touch a decision at the end of the process.  We notify parties of applications that might affect them, determine eligibility for participant funding, and ensure that the regulatory process is both efficient and effective. We are also working to modernize the Registrar's Office through process innovation and technology adoption.  
According to Ontario's Independent Electricity System Operator's (IESO), analysis shows that electricity demand could more than double by 2050. With electric vehicles (EV), and other clean energy initiatives relying on the energy grid, what will be the game-changers, transformative engineering technologies, and enhanced adjudicative processes to support growth and sustainability?
As we embark on the transformation and electrification of the energy sector, I think three things will be key: collaboration, smart technologies, and effective regulation. 
Collaboration across the sector will be essential for a successful transition.  Distributors, transmitters, system operators, regulators and government will need to work together, breaking down organizational barriers and bridging gaps to ensure a holistic, integrated, and thoughtful approach to decarbonization.
Next, the adoption of smart technology to help optimize the electricity grid is necessary to reduce infrastructure impacts, increase the capability of the existing system, and ultimately reduce costs for customers.
And finally, effective, timely adjudication is needed to balance innovation with costs for customers.  It will be essential to ensure that customers have a voice in the regulatory process so that their needs and concerns can be considered in the adoption of new technology and transformation of the electrical grid.  It will also be essential to ensure that regulation is timely and efficient, so that infrastructure can be put in place for when it is needed. 
How has your Western Engineering education and your student experience impacted your career success?
I am so glad that I chose to come to Western Engineering.  It gave me an excellent technical foundation upon which to build my industry knowledge.  It fed my love of learning and gave me the confidence to jump into new areas, which has been especially important working in a technical industry. 
I also learned the value of collaboration through the tight-knit group within the engineering program.  And finally, I would say that graduating from a program where there are more male students than females gave me the knowledge that I could make positive strides as a woman in a male-dominated industry.
With an increasing number of women in engineering, do you have any advice for aspiring women engineers, particularly those looking to enter the energy sector?
First of all, I think the energy sector is an excellent choice for any engineer.  It is a broad sector with so many different areas and roles that you'll never be bored.  Energy is essential to our society and an area that is on the forefront of change, which makes it an exciting area to work in.
In terms of career advice, I would say to not be discouraged, even if your first job isn't a perfect fit.  In my experience, if you follow your passion and choose jobs that allow you to work with great people and do even more of what you enjoy in your current role, one day you will realize you're in a job you love.  Choosing roles and projects in this way has allowed me to have a varied and fulfilling career to date.
Where do you personally find your inspiration?
I find inspiration in many places.  I enjoy reading articles and listening to podcasts, particularly those from the Harvard Business Review, which share how businesses from different sectors are applying new ideas and technologies.  This often sparks new ideas for my role.
I also really appreciate talking to colleagues in other organizations, roles and even jurisdictions.  It creates opportunities to consider a different perspective and bring things together in a new way.