Michael Boutilier receives Award of Recognition
The Engineering Award of Recognition is presented annually to individuals or teams who have made an exceptional contribution in the past year to help further the academic, research and innovation, public service and administration missions of the faculty. 
Michael Boutilier, assistant professor, department of Chemical and Biochemical Engineering (CBE), is a recipient of this year's award.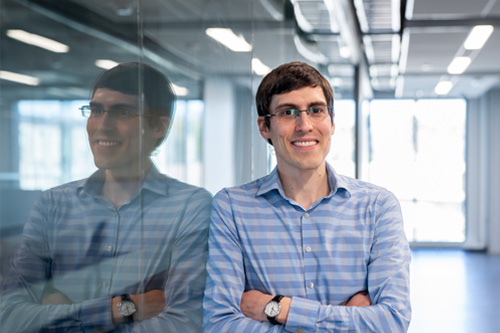 Boutilier is lauded for his significant contributions to the development of the department and is revered for his innovation, organization and dedication to teaching and departmental projects. During the recent Canadian Engineering Accreditation Board (CEAB) visit, he demonstrated invaluable leadership. 
"I'm very grateful to receive this recognition for my dedication and hard work leading up to the CEAB visit," shared Boutilier.  
"I am pleased that my efforts are appreciated and I am thankful for the support I received from the CBE department, particularly from the department chair and Quality Assurance Committee that made this success possible." 
Boutilier's extraordinary efforts to implement training, strengthen data analysis and design tools and protocols to nurture continuous improvement were critical to the accreditation process.   
"I worked on the CEAB project last year with Professor Boutilier and I was impressed with his ability to support the project while juggling his daily responsibilities as a professor, graduate supervisor and Researcher," said Amarjeet Bassi, professor and chair at the department of Chemical and Biochemical Engineering.  
"The completion of the data aspect of the accreditation visit was successful in large part due to Professor Boutilier's patience and attention to detail." 
His colleagues agree that his innovation, organization, and dedication to teaching and to departmental projects are noticeable. He is credited with the creation of an impressive research laboratory and has recruited several graduate students. 
"He participates actively in all aspects that contribute to the success of the Department. He is committed to academia and life successes for students, staff and faculty," shared Brandy Hunter, CBE Undergraduate Program Coordinator. 
Western Engineering congratulates Michael Boutilier on his positive impact over the last year. 
The Awards of Recognition consist of acknowledgment on a plaque, gift and a certificate for the winner(s), presented at the annual awards banquet on Thursday, June 1, 2023.