Legacy of Engineering Excellence: Celebrating the pioneering Class of 1958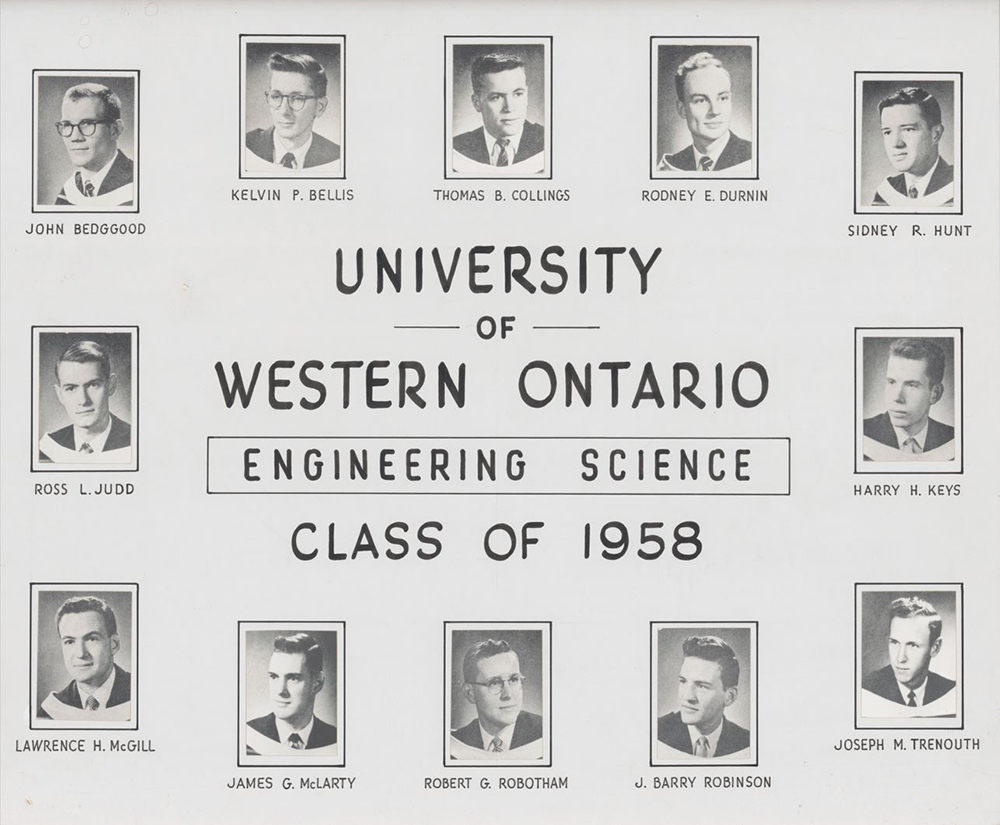 In 1958, history was made at Western University as the first-ever engineering class, a modest group of 12 pioneers, proudly earned their degrees. Sixty-five years on, the influence and impact of this inaugural class of Western Engineering continue to resonate across the professional landscape.
From leadership positions in government and industry to esteemed roles on the global stage, these accomplished graduates have achieved remarkable success. Their contributions span a diverse spectrum, encompassing innovations in various fields, partnerships with influential organizations, entrepreneurial endeavours and much more.
In a special interview, we reconnected with John Bedggood, BESc'58, and his wife, Nancy, as they shared their reflections and cherished memories of those early years.
A Glimpse into 1958: A Year of Milestones
In 1958, a remarkable year for history, Lucile Wheeler of St. Jovite, Quebec, became Canada's Outstanding Woman Amateur Athlete. Princess Margaret toured eight Canadian provinces, and John Diefenbaker led the Progressive Conservative Party of Canada to a resounding election victory.
In sports, the Montreal Canadiens secured their tenth Stanley Cup, while the Ottawa-Hull Canadiens won their second Memorial Cup, and the Winnipeg Blue Bombers claimed their fourth Grey Cup. This year also marked the beginning of nationwide television broadcasting in Canada. 
In the United States, significant progress was made in space exploration as President Dwight D. Eisenhower signed the National Aeronautics and Space Act, giving birth to NASA. The successful launch of the Explorer 1 satellite marked a milestone in the early days of the Space Race.
Academics in 1958: A Different Era
Reflecting on their academic journey, John fondly recalled a time when slide rules were the norm and calculators were yet to make their debut.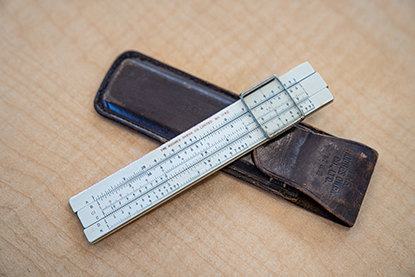 "We didn't use calculators in our day," shared Bedggood. "We used the slide rule to do all our calculations and you could always find us in the library." 
He shared that typewriters were available but seldom used. Writing assignments involved a clipboard, textbooks, and handwritten solutions to problems. Dissertations were handwritten and later transcribed by someone else, a far cry from today's digital ease. It was a time when attention to detail was paramount, as every word and calculation held significance.
He added: "It was a different time. I am happy to see the diversity in our program today. We never had our own building, so we used classrooms from Science. The Spencer Engineering Building was opened a year after we graduated and it has been a joy to see the growth and development of Western Engineering over the years."
Western Engineering continues the tradition of creating an environment that not only nurtures scholastic excellence but also espouses respect and kindness.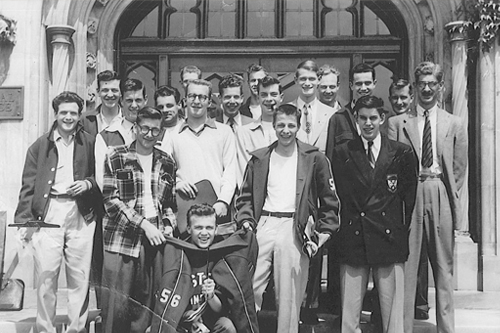 "There are so many stories and experiences I can share on behalf of the graduating class. We appreciated our professors who went above and beyond the call of duty to inspire us to be the best," said Bedggood. He recalled fond memories of professors, including Professor L. Stuart Lauchland, (pictured standing on the right, with the Class of 1958) who helped initiate the creation of the Department of Engineering and who invited the class to his home for Christmas celebrations.
The Power of Alumni Bond
One remarkable aspect of the Class of 1958 is their unwavering commitment to staying connected. Bedggood initiated a tradition of annual gatherings that has endured and members of the class have attended several Homecoming events over the years. The camaraderie and unity they share are a testament to the life-long friendships forged during their time at Western University.
Together, they initiated the Undergraduate Engineering Society (UES), which, now 65 years later, is still an integral platform that gives a voice to the students of Western Engineering. The UES was also the impetus for the development of Western Engineering clubs that now see hundreds of students taking part in over 30 clubs and teams.
The Class of 1958 will be returning to campus this fall for Homecoming. At the Western Engineering Open House, they'll get a chance to learn about the innovative and inspiring projects each club and team is working on.
"We look forward to all our reunions and the fellowship," says Bedggood. "We enjoy seeing each other and catching up on old times. At Homecoming, we've always been impressed with the work of the students and their projects. Western Engineering continues to flourish and we feel honoured to have witnessed its expansion." 
Class of 1958
The Class of 1958 were pioneers for Western Engineering and they set out to do incredible things across a wide range of disciplines in their careers around the world. Here's a brief snapshot of life after Western Engineering for the Class of 1958. 
Kelvin Bellis, BESc'58, MBA'65, Mechanical Engineering
Worked as a mechanical engineer in aviation at Pratt & Whitney Canada in Montreal, Quebec
Special Projects Engineer for The Western Gear Corporation and The Kaiser Engineering Company.
Earned his MBA from Western in 1965 and started his own firm, Bellis Associates Limited, where he served as president until retirement in 2005.
John Bedggood, BESc'58, Chemical Engineering 
Held senior leadership positions in health and safety at Laidlaw Environmental Services Ltd., Tricil Ltd., Canadian Pacific Express and Transport Ltd. and Du Pont Canada Inc.
Thomas Collings, BESc'58, Civil Engineering
Helped to execute or lead numerous innovative projects as a Perth County Engineer.
Rodney Durnin, BESc'58, Civil Engineering
Reached the rank of Senior Test Pilot at the Royal Canadian Air Force (RCAF) Central Experimental and Proving Establishment (CEPE), later renamed to the Aerospace Experimental Test Establishment (AETE).
For the Ministry of Aviation, he helped to establish ground clearance requirements for instrument approach procedures to airports throughout the world and developed standards for the operation of electronic ground equipment to guide aircraft to the runway.
Ross Judd, BESc'58, MEng'63, PhD'68, Mechanical Engineering
Awarded the University Gold Medal at Western University in 1958 and was the inaugural recipient of the L.S. Lauchland Alumni Award in Engineering for outstanding contributions to the engineering profession.
Completed the first MEng degree in the department of mechanical engineering at McMaster University in 1963 before completing a doctoral degree in 1968 at the University of Michigan.
Worked at the Civilian Atomic Power Department of Canadian General Electric from 1958 to 1961.
Taught at McMaster University since 1963 and holds the rank of Professor Emeritus.
Lawrence McGill, BESc'58, Civil Engineering
Worked as a Pembroke City Engineer.
Led water and sewer mega projects in the Middle East. 
Robert Robotham, BESc'58, Chemical Engineering
Held senior positions at Gulf Oil Canada Ltd., Port Moody Refinery and Point Tupper Refinery and Syncrude Canada Ltd.
Barry Robinson, BESc'58, Electrical Engineering
Worked on the Avro Canada CF-105 Arrow (the Arrow), the supersonic interceptor jet aircraft designed and built in the 1950s.
Joseph Trenouth, BESc'58, MBA Chemical Engineering
Earned an MBA from the University of British Columbia.
Worked at the National Research Council Canada (NRC).
Western Engineering would like to make a special mention of those from the Class of 1958 who are no longer with us. We remember Sidney Hunt, Harry Keys and James McLarty. 
Homecoming 2023 
Homecoming promises to be a memorable occasion as we celebrate the Class of 1958 and their enduring impact on the field of engineering. Join us on September 22 and 23 for our curated engineering events to commemorate their remarkable journey and the legacy they've built over six and a half decades.
Western Engineering, students, faculty and staff eagerly await your return to campus and the opportunity to share in the rich history and promising future of Western Engineering.