Joshua Pearce: Boosting food productivity and power by optimizing the use of sun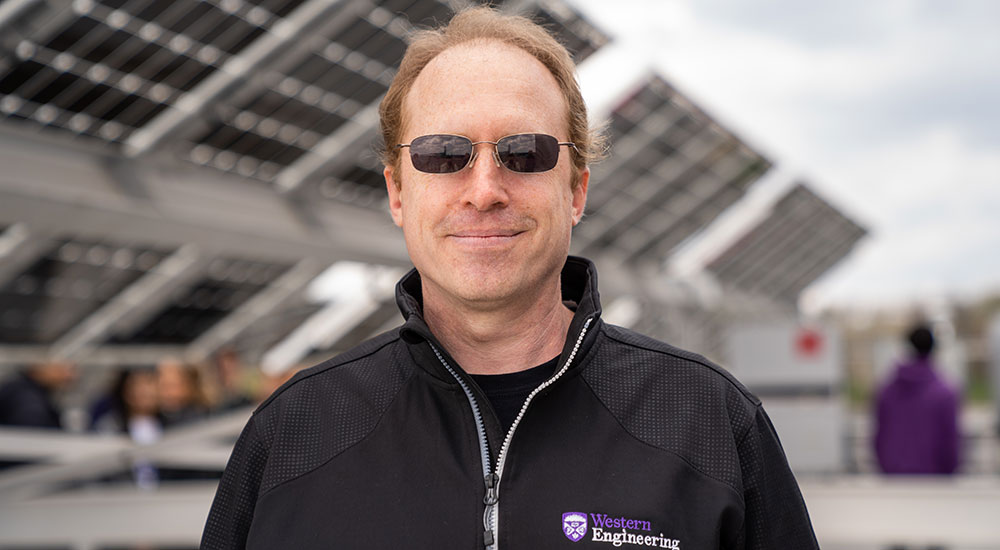 Western Engineering professor Joshua Pearce is leading one of the 11 Canadian teams awarded $1 million to develop a bold idea for extending the growing season of berries. 
As a part of the Homegrown Innovation Challenge, each team now has 18 months to build and test its proof-of-concept ideas before the next phase of the Challenge, which will see this group of 11 reduced to four teams.
Pearce's project truly revolves around the sun. His team, which also includes Western Engineering professor Soodeh Nikan and Dr. Raymond Thomas the director of the Biotron, is applying open-source photovoltaic technology to optimize the use of the sun's energy to support both indoor and outdoor production of different varieties of berries.
Modular and scalable, the production system can be adapted to growing conditions across Canada, including the north, and could be expanded to produce enough energy to supply far more than farms.
The key to increasing productivity in both indoor and outdoor growing spaces is agrivoltaics—specialized solar panels that both allow the transmission of natural light to plants underneath while also producing electrical energy—to turn solar energy into electricity on agricultural land. Western has already released a number of studies on agrivoltaics including several lines of open source agrivoltaic racking systems that meet Canadian building code an anyone is able to use for themselves. These include using farm fences, building vertical, fixed tilt, variable tilt, floating (for ponds), cold frames and even integrated greenhouses. 
"It could be massively beneficial," says Joshua Pearce, the John M. Thompson Chair in Information Technology and Innovation. "Our research has shown a small percent of Canada's farmland turned agrivoltaic could take on all of our electrical needs. Studies throughout the world have shown an increase in yield with agrivoltaics – we are taking it one step further to use the solar electricity to grow even more food indoors with our partners at Food Security Structures Canada."
Five types of berries will grow outdoors under adjustable solar photovoltaic arrays, where plants will be protected from extreme weather and require less water than conventionally produced crops. Energy collected by the arrays will power the lights, water pumps, and heat pumps of the indoor vertical farm, decreasing energy demands and costs.