Hamid Abdolvand named Tier 2 Canada Research Chair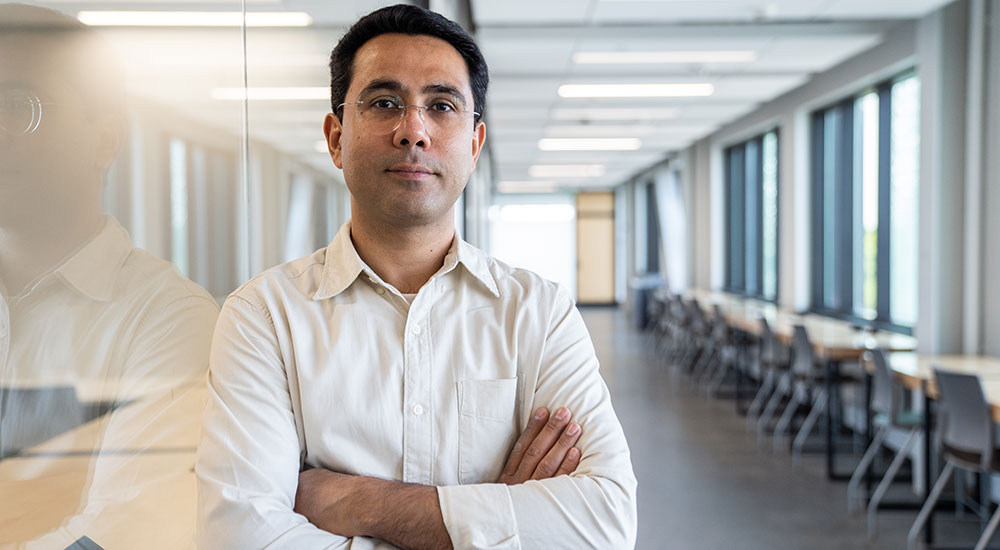 Hamid Abdolvand has been named Tier 2 Canada Research Chair in Advanced Materials for Low-Emission Energies.
An associate professor in Western Engineering's Mechanical and Materials Engineering Department, Abdolvand's research focuses on the deformation and failure mechanisms of engineering materials across length and time scales.
He was one of 157 researchers across the country announced as new and renewed Canada Research Chairs (CRC) on Tuesday. By offering $311 million annually in research support, the CRC program aims to attract and retain the world's best researchers and to position Canada as one of the world's top countries in research and innovation.
"Our dependence on electricity has been increasing, and to achieve our climate goals, it is imperative to establish robust strategies for producing reliable low-emission energies on a large scale," says Abdolvand.
"One of the major challenges in this area is related to the development of advanced metal alloys or understanding their performance."
Abdolvand's CRC research will attempt to answer important questions about what circumstances and conditions might lead to the degradation and cracking of these advanced metals and alloys, such as those used in nuclear reactors.
"These materials are often exposed to a harsh environment while carrying significant thermal and mechanical loads," he says. "This CRC will help us train the next generation of engineers and highly qualified personnel, equipping them with the expertise to understand the complex behaviour of engineering components used in such demanding environments."
The numerical and experimental toolboxes that have been developed in his group have been used to understand the connection between manufacturing parameters, materials microstructures, and degradation mechanisms.
Several members of his group are currently investigating the consequences of hydrogen and irradiation embrittlement of the metal alloys used in the core of Canada Deuterium Uranium (CANDU) nuclear reactors. One of the pillars of his CRC is to continue supporting research and development for the materials used in the core of CANDUs.
Abdolvand's group is also developing methods for characterizing high-temperature performance of superalloys for Small Modular Nuclear Reactors (SMRs).
The types of materials used in SMRs will have a significant impact on their lifespan. Ontario Power Generation hopes that reactors can maintain safe and significant operations for at least another 30 years.
More than 15% of energy in Canada and 50% in Ontario has been produced through CANDU nuclear reactors like those at the Darlington site.
To meet climate targets, the International Energy Agency has projected that in the next 20 years we will need to double our energy production through nuclear.
Abdolvand believes that ensuring the safe and sustainable operation of nuclear reactors through the development of advanced predictive materials models is key to these goals.
"We expect our CRC research will contribute significantly to ensuring the safe operation of current nuclear reactors and will help select the right material for critical components of the next generation of advanced reactors."