Engineering alumni receive honorary degrees from Western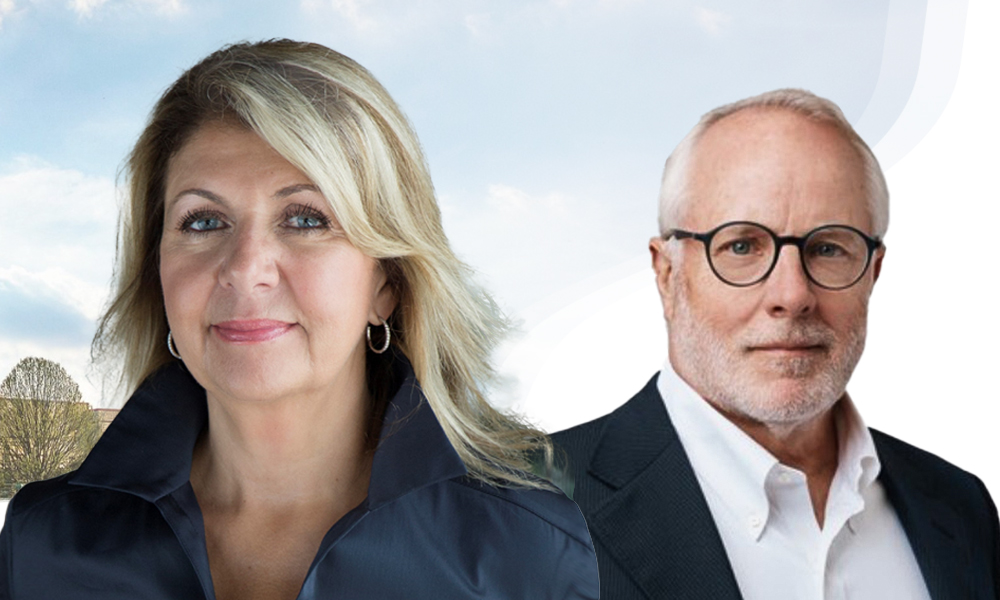 Today, Catherine Karakatsanis, BESc'83, MESc'91, and Douglas Muzyka, BESc'77, MESc'78, PhD'85, were conferred with honorary degrees of Doctor of Laws at convocation ceremonies at Alumni Hall.
Karakatsanis is the COO of consulting engineers Morrison Hershfield Group Inc. She has served as a director of the Canadian Engineering Memorial Foundation, chair of the Foundation for Education, chair of the Faculty of Engineering Advisory Council at Western and chair of Engineers Canada. She has also served as director on Western's Board of Governors.
Most recently, Karakatsanis became president-elect of the International Federation of Consulting Engineers (FIDIC). She is set to be the first woman president in FIDIC's 110-year history when she takes office later this year.
"I am greatly honoured to receive this honorary degree from Western University," says Karakatsanis. "I felt especially honoured to be recognized for my contributions over the years by the university where I got my start and proud to be associated with Western University, an institution that is world-class and one of which I am so fond."
"I have so many fond memories of my time at Western. Besides the excellent education I received I also remember the incredibly supportive and inclusive environment that was then, and I know is still being created at Western."
Western Engineering Dean Ken Coley spoke at her convocation ceremony.
 "For over 30 years, Catherine has been blazing a path for women in engineering," he said. "She is a visionary, transformative force who thrives on making things happen. Catherine has had an immeasurable impact on Canadian society and her achievements in this traditionally male-dominated field, have paved the way for other women to follow in her footsteps."
Muzyka is a former president and CEO of DuPont Canada and current council chair for the National Research Council of Canada. He completed his doctoral research as the first participant in an exchange between Western and the Université de Technologie de Compiègne in France.
Muzyka worked in the French coal industry for several years before returning to Canada to begin a long career with DuPont. He was president and CEO of DuPont Canada prior to its privatization in 2003 and later was global chief science and technology officer for DuPont.
"I am humbled by the thought of receiving an honorary degree at Western," says Muzyka.   "When I see the truly remarkable people who have been selected for this recognition in the past, I feel a great sense of pride in being considered among them."
"Returning to campus brings back nothing but fond memories of my time as a Western Engineering student. The faculty was much smaller then and everyone got to know everyone.  Engineering students had a reputation for having the most demanding class schedule on campus, but this created a strong mutually supportive solidarity among our class which persisted long after we all finally graduated." 
At Muzyka's convocation ceremony, Andy Hrymak, Western Engineering professor, spoke about his many contributions to both engineering as a whole and to Western Engineering.
"Despite the demands of his career, Douglas has generously donated his time to encourage the next generation of Western Engineering leaders," Hrymak shared. "My conversations with Douglas had a profound and lasting impact on me and Western Engineering on the importance of providing international engagement opportunities for our students, and in underlining the imperative of sustainability as a necessary requirement for our futures."
Read more about this year's honorary degree recipients.