Duane Jacques honoured with Award of Recognition
Duane Jacques, student shops advisor and an assistant professor in the department of Electrical and Computer Engineering and the Center for Engineering Leadership and Innovation, is a recipient of this year's Engineering Award of Recognition. 
The Award is presented annually to acknowledge exceptional commitment and contributions to Western Engineering by a faculty and/or staff member. Jacques is recognized for his leadership, mentorship and continued contributions to student success.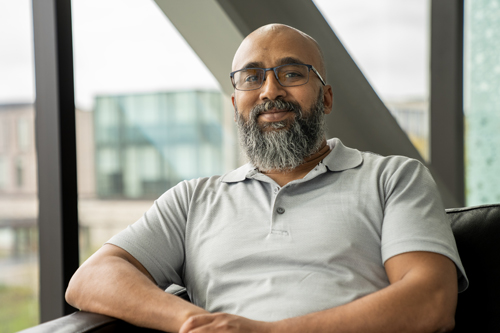 "I feel honoured to receive the award," shared Jacques. "Being recognized by colleagues, and in particular, students, for the work I do is truly appreciated."  
Jacques is known as a devoted and hardworking individual who consistently goes above and beyond the call of duty, with several of his peers noting his willingness to advise and train students for courses and clubs outside of his work schedule. 
One colleague said, "our scholars benefit from his expertise as he helps them hammer out solutions and hone their technical skills and proficiency in operating state-of-the-art equipment in the shops." 
"His efforts have borne fruit with the continued success of the Western Engineering Formula, Baja, WETT and Rocketry teams at national competitions." 
Not only does Jacques use his experience to help students reach their potential, but he also works constantly to improve the facilities available for student use. This year alone, he added a new 3D printing station, a curing station and a new multi-process welder and is in the process of acquiring a new CNC router table. Additionally, he has been a champion for increased safety which resulted in the implementation of an Emergency Stop System in compliance with industry regulations. 
When asked about the motivation behind his work, Jacques said, "there are always students that need help with some aspect of their studies each day.  Being helpful to others generates a small sense of accomplishment and makes me feel useful." 
"All these day-to-day instances, cumulatively produce a valuable contribution to the educational mission of the faculty, and I take pride in being able to support the students as they work towards becoming highly capable engineers," he added. 
Additionally, Jacques is an exceptional technician and faculty member who is regularly sought out to assess technical issues. 
"Duane is an inspiration to work with due to his enthusiasm and commitment to his job," shared Eugen Porter, technical specialist IV at Engineering. "He always lends his strengths to support faculty requests and is always willing to contribute to developing new material and curriculum." 
"Duane is an inclusive leader dedicated to helping his team members grow and develop. I am absolutely sure that the level of mentoring and support offered to students and clubs using shop spaces would have been significantly lower without Duane's efforts," added Porter. 
Jacques also dedicates his time to volunteering and is highly involved in several extracurricular clubs. He serves as a judge for Western Engineering outreach initiatives and a mentor for FIRST Robotics Competition and FIRST Tech Challenge teams to promote Western Engineering. 
Justin Chuang, Western Engineering Baja SAE team captain, recognizes Jacques as one of the most influential and helpful professors in the faculty. 
"He cares about his students and does everything in his power to pass on the knowledge from his years of experience," says Chuang. "In my four years at Western, I have not met a professor more deserving of an award of recognition than Dr. Jacques." 
"His commitment to the engineering teams and students speaks volumes, and words cannot express how appreciative we are to learn from him."