Bridging the gap: Western Engineering students provide critical access in Bolivia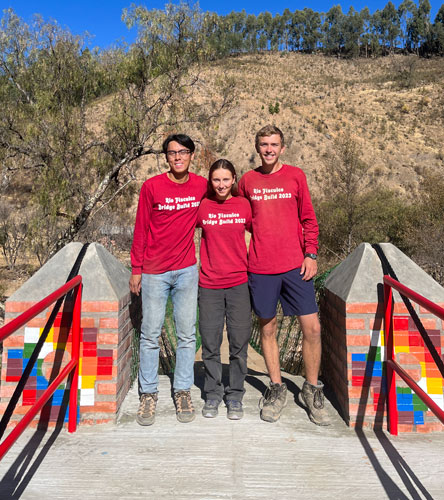 A small group of Western Engineering students traveled to Bolivia this summer to provide a local community with critical access to schools, farmland and urban amenities. How did they do it? They built a bridge.       
Western Engineers in Action (WEIA) spent 7 weeks in the Kainacas Region of Bolivia, building a 50-metre-long pedestrian bridge to allow locals to cross the Rio Fisculco. Without the bridge, the river was impassable for roughly half of the year due to flooding. However, with multiple schools being located beyond the river, many would attempt to cross despite the dangerous conditions.    
WEIA aims to provide isolated communities with safe access to services and opportunities by building footbridges over impassable waterways. They are a chapter of the non-profit Engineers in Action (EIA), whose aim is to connect students to real-world civil engineering projects that create a meaningful difference.    
To date, EIA and its affiliated staff have constructed over 100 footbridges in countries all around the world. As a university chapter, WEIA strives to fund, design and construct a new footbridge every year for an isolated community.     
Evan Park, a third year Chemical Engineering and AISE student, traveled to Bolivia along with Sarah Molnarova, (third year Civil Engineering and International Development) and Roy Hong (third year Civil Engineering and International Development). We caught up with Park to learn more about the experience.   
What was it like to learn and apply your Engineering training in a different country?
The ability to apply all the concepts learned in class was incredible. In school, a lot of what we do is theoretical and Engineers in Action gives students, like me, the opportunity to utilize these critical concepts to build something tangible that has a lasting impact on everyone involved. Seeing your design come to life is one of the greatest feelings for an engineer.
Taking a design from nothing more than a piece of paper and some numbers to building a physical bridge was extremely gratifying. Constructing the bridge in a different country was interesting as numerous laws and regulations are different than in Canada giving me a completely different perspective on how tasks can be done.
What were some of the obstacles that you had to overcome during this project? 
A large obstacle we as a team had to overcome was inexperience. The club at Western struggled through COVID as no one was allowed to travel at that time. Therefore, this forced my teammates and I to take on the entire project with no prior experience working with EIA or designing a bridge. We had to learn everything from scratch, making each task that much more difficult, but rewarding upon completion. To overcome this challenge, we relied heavily on the staff at EIA to guide us through the process.
What was it like to be able to look at a bridge your team managed to complete from the ground up, providing critical access to resources and services for hundreds of people? 
Standing before the completed bridge was an inspiring moment as it was a testament to the tireless efforts and collective dedication of our team. Witnessing the tangible manifestation of our hard work come from mere plans to a sturdy structure ready to serve and support hundreds of people was incredibly fulfilling. We felt great pride and accomplishment as we grasped the significance of our contribution to the community. Working alongside the community members every day allowed us to see how much the bridge meant to them, making the entire process that much more meaningful.
_______
_______
For those considering experiential learning experiences abroad, what advice would you have?
Anyone considering partaking in an experiential learning experience should stop considering and do it! This trip was easily the greatest moment of my life. 
Coming out of university, companies are looking for students with experience and there is no better experience than completing a real large-scale construction project. Those who choose to travel must always remember that on your trip you will come across some of the smartest and most innovative people you will ever meet. So instead of trying to force our way of doing things, take a second to really learn from them. Traveling and working in another country is not an opportunity that will come around every day.
I truly believe that there is no better learning than projects like these, in which students get to take on full responsibility of the project with some guidance from professional engineers, learning skills that go way beyond the classroom.  
How are non-profit projects like this possible?
This project would not be possible without our sponsors; Reinforced Earth, Edison Engineers Inc, Mosaic Graphics, and Western Undergraduate Engineering Donation Fund. Additionally, the collaboration with students from the University of Delaware and University of Iowa, staff at EIA and Western University all allowed this vision to come to life and create an impact beyond our understanding.
________
Interested in finding the Experiential Learning experience for you? Learn more.