AISE celebrates first cohort of innovative artificial intelligence program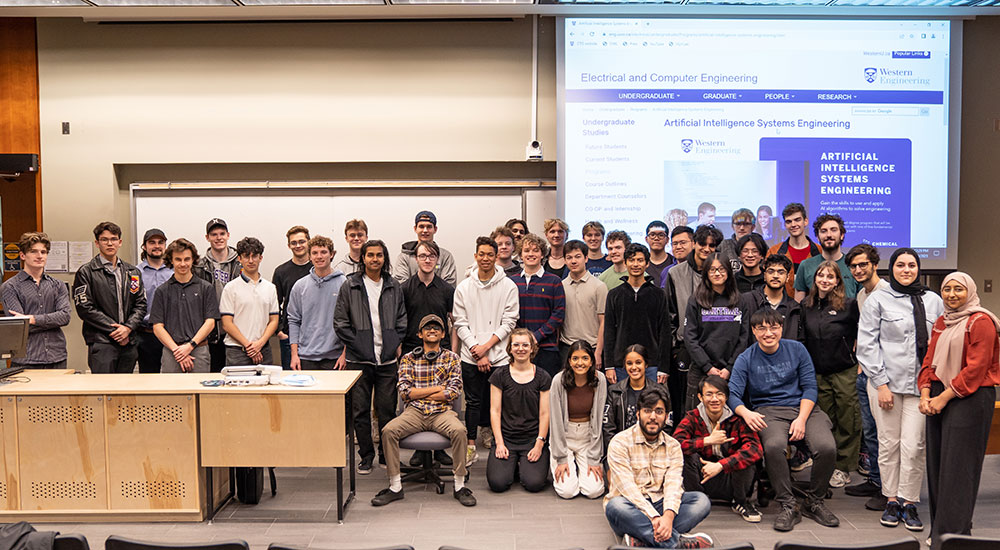 Last fall, Western Engineering launched the Artificial Intelligence Software Engineering (AISE) program, the first of its kind in North America. And now, more than 50 chemical, civil, electrical, mechanical and mechatronic systems engineering students have completed their first year of the five-year concurrent degree program. 
Led by Program Director and Western Engineering professor Shaimaa Ali, AISE trains today's engineers in the required modern tools to meet increasing employment demands and maximize opportunities for graduates. The program has nearly 190 students who've expressed an intent to register for the fall.
AI is finding relevance in all disciplines of engineering. Recent years have seen a rapid evolution of technology and an explosion of new applications and devices that are seamlessly integrated into everyday activities, producing, collecting, and communicating data about people, places and things.
"By combining my engineering discipline with AI, the breadth of systems I can work with is endless. And it means I will be better prepared for the challenges of the modern world. "
- Hunter Korble, 3rd-year AISE student
Ali believes the AISE program sets engineering students up for success in this emerging world.
"Software engineers need to collaborate with engineers from other disciplines, which often face communication barriers that can affect the quality of the end products," she says. "This program provides the missing link as students learn the language and the mindset of both AI-focused software engineering and the core engineering discipline of their choice.
"The AISE program allows me to be on the cutting edge of engineering and innovation," says Hunter Korble, third-year mechatronics systems engineering and AISE student. "Especially with the creation of technologies like chatGPT, it is clearer than ever that an education in artificial intelligence will be an enormous asset in the 21st century."
AISE students are educated in the fundamentals of AI, deep learning, online learning, algorithms, and data structure to solve engineering problems. Joshua Givans, a third-year electrical engineering and AISE student, appreciates the project-based courses and case study methods. 
"This program is unique in that our lectures tend to be more interactive than most," he says. "Knowing that our professors not only expect but encourage us to ask and ponder questions motivated me to explore beyond the scope of the lectures. The program naturally promotes self-directed discovery and independent research."
Graduates of the program will understand the characteristic behaviour of AI models and will be capable of providing accountability in professional engineering environments. They will develop advanced skills to ensure their models are understood and deployed safely and responsibly, while also being able to evaluate the applicability of their model's predictions. 
"Artificial Intelligence is becoming more common in several industries every day," says Eesha Sharma, a third-year chemical engineering and AISE student. "As engineering students, we need to be able to grow with these changes. That's why I think the AISE program is crucial to have in engineering. I personally am hoping to find ways to implement Artificial Intelligence to help manufacturing companies make their processes more sustainable." 
The AISE program is part of Western Engineering's commitment to elevating the student learning experience and re-imagine our curriculum to educate and inspire the next generation of engineers for greater impact.