Dr. Xianbin Wang Receives Award of Excellence in Research
Western Engineering holds research excellence as a foundational pillar on which it derives its success on the world stage. Engineering has many faculty with outstanding reputations for their impact to global research. Each year, Western Engineering celebrates a member of its faculty whose research contributions have been both vast and influential on the global research community.
This year, Engineering is happy to award Electrical and Computer Engineering Professor and Director, Innovation Centre for Information Engineering, Xianbin Wang with his outstanding achievements in the frontiers of 5G, wireless security, and the Internet of Things (IoT).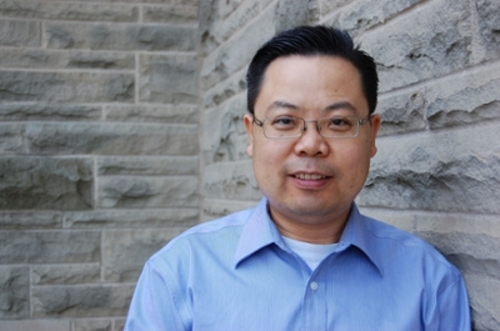 "This is exciting news." Said Wang. "It also brings an opportunity to share with other colleagues regarding the purpose of engineering research. With our ever-changing world, developing innovative solutions to new problems through engineering research has become essential. Engineering research with a purpose will directly address the needs of people, industry, and society, and eventually make our world a better place."
As an exemplary illustration of his influence in engineering research, Wang's support letters flowed in from all over the world. From Europe to North America, colleagues and researchers alike reached out to provide examples of his research success and the positive impact he has had.
"Dr. Wang is one of the most innovative and high-impact researchers worldwide." Said Dr. Lajos Hanzo, Professor in the School of Electronics and Computer Science at the University of Southampton. "His outstanding accomplishments in terms of publications, patents, funding, citations, standard development, commercialization, professional services and research training are truly exceptional on a global scale."
Among the countless statistics measuring the leadership Wang has in his research areas, he has published over 500 highly cited research articles, also been involved in the organization of over 50 conferences, served as 10 editor/associate editor for top journals and as an Institute of Electrical and Electronics Engineers (IEEE) Distinguished Lecturer. Currently, he is the Editor-in-Chief for Sensors and the Associate Editor-in-Chief for IEEE ComSoc Best Readings.
A recurring theme throughout Wang's letters of support was the impact he has as a leader in research and training. "In addressing the research training challenges due to rapid technology evolution, he has developed his strategies on integrating experiential learning and individualized training for better outcomes." remarked Dr. Nirwan Ansari, Distinguished Professor of Electrical and Computer Engineering at New Jersey Institute of Technology.
It is no surprise then, that Dr. Wang has overseen over 200 graduate students over the years as well as maintained a research team of over 20 graduate students and postdoctoral fellows.
"One of the important ways for research training is to inspire and encourage due to the growing research challenges." adds Wang, when asked about how he helps his team succeed. "I usually don't really get into the daily research activities and the details of students' projects. Instead, my interactions with them are more focused on the sharing of research goals, setting the direction, confirming the principle of solutions, and discussing the significance of research findings. I found this approach often accelerates research progress and growth of students."
The list of achievements for Dr. Wang is extensive. In addition to over 50 funded research projects he initiated at Western over the years, the 30+ patents, and over 200 students overseen, one can also find his name as a Tier-1 Canada Research Chair and a Fellow of IEEE, the Canadian Academy of Engineering (CAE), and Engineering Institute of Canada (EIC).
"He is dedicated and determined to overcome the challenges from the integrated design and intelligent/orchestrated operation of wireless and converged industrial systems in the meeting the evolving needs of people, society, and industry." said colleague and fellow researcher, Dr. Octavia A. Dobre, Professor and Associate Dean of Research at Memorial University, Faculty of Applied Science.
When asked what winning this award meant to him Dr. Wang stated, "It's definitely an honour to have your colleagues recognize that you are doing great research. But more importantly, recognizing that you are doing the right thing and going in the right direction. This award means a lot for my future research, as engineering research is an endless endeavor."
Western Engineering is thrilled to be celebrating this outstanding achievement with Dr. Wang and will be honouring him and other award recipients on May 26th, 2022 at the Faculty, Staff and Alumni Awards Gala.