Western's Northern Hail Project receives over $3M to boost severe weather research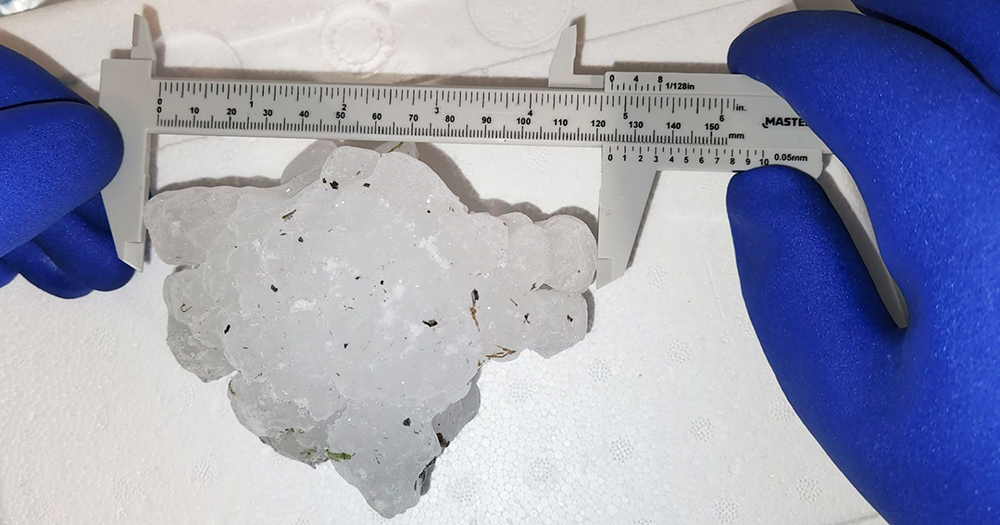 A record-breaking hailstone was recovered northwest of Markerville, Alta. on August 1, 2022. The weight is 292.71 grams and the diameter is 123mm. (Photo by Francis Lavigne-Theriault).
The Northern Hail Project (NHP) – the latest severe storm investigation unit at Western University –  has received over $3 million from the Natural Sciences and Engineering Research Council of Canada (NSERC) Alliance-MITACS grant to further the understanding, prediction and mitigation of damaging hail events. 
This is the largest award to date that Western has received from this program. NSERC and Mitacs award these grants to fund research and provide opportunities for enriched training experiences. 
"We are honoured to receive a grant of this size because we have an ambitious goal of capturing all of the data possible related to damaging hail events systematically across Canada using a wide range of methods and tools," said Western Engineering professor Gregory Kopp.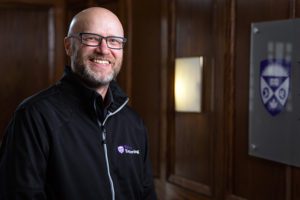 "Databases will be developed, observational and analytical climatologies, warning systems and risk models for severe and extreme hailstorms. These can be used for the development of adaptation measures, which may be particularly beneficial for isolated and marginalized communities as well as large cities such as Calgary," added Kopp, who is also the ImpactWX Research Chair in Severe Storms Engineering and  Northern Tornadoes Project (NTP)/NHP research lead. 
Hail is created when raindrops get caught in a strong updraft of a thunderstorm. The drops are lifted higher and higher into the storm cloud until they freeze and then begin to grow. Eventually, they become too heavy and crash back to Earth, ultimately causing varying degrees of damage.  
A Canadian record-breaking hailstone was recovered by the NHP field team following a storm earlier this year near Markerville, Alta. The record-breaker weighs 292.71 grams, eclipsing the previous title holder – a hailstone weighing 290 grams, collected nearly 50 years ago in Cedoux, Sask. on July 31, 1973. 
"Hail is a huge driver of loss in Canada. From 1998 to 2021, the peril cost insurers almost $9 billion", says Paul Kovacs, Executive Director of the Institute for Catastrophic Loss Reduction (ICLR). 
The ICLR, which financially supports the NHP, is one of many partners invested in reducing our vulnerability to hail. 
"Our partnership with Western's Northern Hail Project represents the most comprehensive study of this peril ever conducted in Canada," says Kovacs. "This work will help us better understand what is happening with regard to damage to the built environment from hail, where it is happening, whether current mitigation actions work and what can be done to further improve our resilience against this costly and disruptive peril." 
TRAINING 
The Northern Hail Project will train 55 highly qualified personnel, consisting of a postdoctoral researcher, graduate students, and summer research interns, offering them the hands-on experiences needed to fill gaps in the industry related to the impact and assessments of severe storms. Trainees will be involved in the operation of the equipment and its deployment and gain valuable data analysis and coding skills. 
"We're looking for high school students to post-doctoral researchers who want to work in the field and be a part of this fun and exciting research," shared Kopp. "There are a lot of opportunities, and the project provides an interesting interdisciplinary environment with engineers, meteorologists, and scientists.   
The Northern Hail Project was created earlier this year following the success of the Northern Tornadoes Project, which was founded in 2017 as a partnership between Western University and ImpactWX. Collaborators include the University of Manitoba,  Insurance Institute for Business and Home Safety, Instant Weather and Weatherlogics Inc.